Date
Sat, Jul 24 | 11am PT
Cost
FREE | Sign-up Required
In this very special Storytime event, Santa J. Claus makes a summer vacation stop to celebrate Christmas in July. Join us as Santa reads one of his favorite stories, The Feast of Cheer, and discusses how Walt's great imagination and wonderful characters inspired him to provide Disney toys and magic to children around the world.
Registration
Registration for this program will open to the public starting Wednesday, July 14 at noon.
Members receive priority access for registration to these programs. A limited number of spots for each program are reserved for members only on a first-come, first-served basis. To get priority access to future programs, join as a member today.
Q&A and Requirements
Questions can be submitted during the webinar through Zoom's Q&A function. Due to anticipated demand and limited Q&A time, not all submitted questions will be answered.
All participants must sign up by noon Pacific Time on the day prior to the event. Participants must have a Zoom account to attend the workshop. A link to the webinar and instructions for joining will be sent via email prior to the event.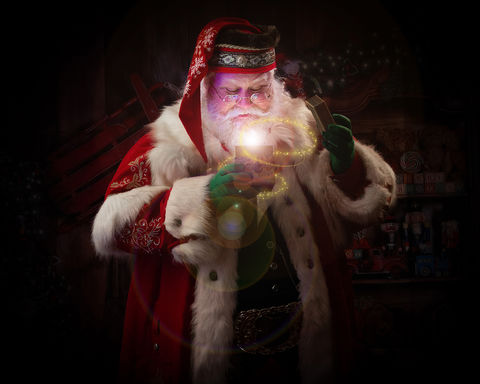 About the Speaker
Santa J. Claus takes his role very seriously and dedicates much of his time as the official Santa for the Children's Miracle Network in San Francisco/Oakland and the Lucile Packard Children's Hospital in Stanford, CA. For the past 11 years, he has produced an annual concert Believe With Santa, featuring music and costumed character performances for Make-A-Wish children in the Bay Area.
This year Santa J Claus became "the" verified Santa on the popular social platform TikTok. With over 2.4 million followers, his uplifting and positive video messages and duets have struck a chord with people of all ages, including celebrities and social influencers alike.
Santa J Claus is featured in Meghan Trainor's music video with JoJo Siwa called "I Believe in Santa" and has recently launched the #GotMilkCookieChallenge with Got Milk.
Help Us Continue Our Digital Efforts
Since opening over 10 years ago, we have sought to make the museum a place where our guests could find animation, innovation, and inspiration and immerse themselves in the remarkable life story of Walt Disney—the man who raised animation to an art, tirelessly pursued innovation, and created a distinctly American legacy, transforming the entertainment world.
Over the past year, we have increased our digital presence to stay true to our mission. Your donations ensure that we can continue opening our museum virtually to the world, and that future generations can continue to be inspired by Walt Disney's life and legacy.