Cost
FREE for members, Registration Required
$10 non-members
Date
Fri, Dec 2 at 5pm–Mon, Dec 5 at 9am
Since its opening in 1955, Disneyland has played host to many notable guests—from foreign dignitaries to Hollywood stars. Disneyland VIP Tour Guides play an integral role in the VIP guest experience at Disneyland, and their distinctive costumes highlight their unique position in the park. Join Disneyland Guest Relations expert Sandi Baldwin for a discussion outlining the history of these iconic costumes.
A Vimeo link and password will be included with your ticket purchase. Please note: The password will not be active until 5pm on Friday, December 2.
On-Sale Information
Tickets for the Virtual Replay listed above will be available as follows:
All member levels: Reserve tickets online beginning Thursday, November 17 at noon
Public (non-members): Remaining tickets available online beginning Friday, November 18 at noon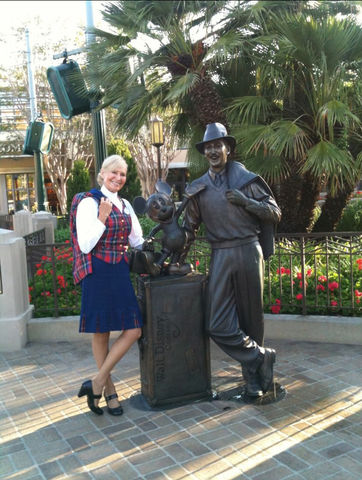 About the Speaker
Sandi Baldwin
Sandi R. Baldwin is a native Californian, having grown up in Los Angeles and Orange County.  Six months after Disneyland opened on July 17, 1955, Baldwin visited the Park with her family and immediately fell in love with it.
During the 1960s and 70s, Baldwin worked part-time at Disneyland in several roles, including ride operator, trainer, and Christmas parade narrator.
Baldwin attended California State University Long Beach majoring in art, then moved to Northern California where she graduated from Cal State University, San Jose with a degree in theater history and design.  She also obtained a teaching credential and taught elementary school. When Marriott opened their new Great America theme park in Santa Clara, she joined the marketing team and spent a few years there as a regional marketing manager.
In the late 70s, Baldwin returned to Southern California where she worked as a convention sales manager at the Disneyland Hotel, tour and travel manager at the Anaheim Marriott Hotel, and travel industry manager at Walt Disney Travel Company.
In 1979, Sandi married Bob Baldwin, a Disney marketing executive. They lived in Japan and France while opening the new Disney Parks—Tokyo Disneyland and Disneyland Paris. They have two children and two grandchildren.
In 2007, Sandi Baldwin returned to Disneyland in Guest Relations. In her current role, she is a tour guide, premium VIP guide, host for Walt Disney's apartment, and Guest Relations trainer. Baldwin has also researched and created two Disneyland Heritage Walls highlighting the history of Disneyland's VIP Tour Guides.