Cost
FREE | Registration Required
Date
Fri, Jun 30 | 5:30pm PT
Join us in celebrating LGBTQ+ Pride Month with an exclusive screening of the short film Pete (Artfarm Productions, 2022) followed by a Q&A with the film's director Bret Parker. Pete is an animated short film based on a true story about gender identity, organized youth baseball, the people who inspire change by trying to be themselves, and the superheroes who allow that change to happen.
On-Sale Information
Tickets for Behind the Scenes of Pete (2022), an Independent Film from Pixar's Bret Parker will be available as follows:
All member levels: Reserve tickets online beginning Thursday, June 15 at noon PST via the Member Portal.
Public (non-members): Reserve tickets online beginning Friday, June 16 at noon PST.
Q&A and Requirements
Questions can be submitted during the webinar through Zoom's Q&A function. Due to anticipated demand and limited Q&A time, not all submitted questions will be answered.
All participants must sign up by 5pm PT on Thursday, June 29. Participants must have a Zoom account to attend the webinar. A link to the webinar and instructions for joining will be sent via email prior to the event.
About the Speaker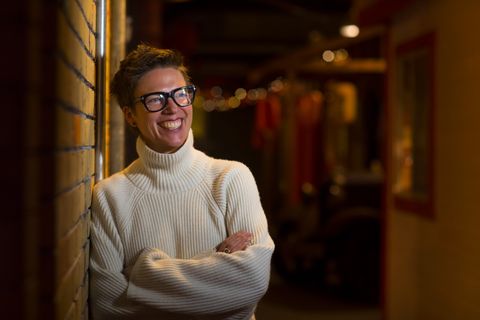 Bret Parker
Bret Parker is a veteran in the film industry with 26 years under her belt at Pixar Animation Studios. Parker started her career at Pixar in 1996 and has gone on to animate on many films since, including the Oscar®-winning Disney and Pixar's Finding Nemo (2003) and Disney and Pixar's The Incredibles (2004). In 2012, with the development of the film Disney and Pixar's Brave, Parker shifted her focus at work, becoming Animation Tools Lead and an integral part in the design and development of the current animation software used at Pixar, known as Presto. 
In 2018, Parker shifted focus again and took on the role of animation second unit supervisor for Disney and Pixar's Incredibles 2. In 2019, along with her wife, Parker directed and produced her first feature length documentary, Through the Windows, which they made through the Pixar Cooperative Program. She just completed her second film Pete, (Antfarm Productions, 2022) which premiered at the Tribeca Film Festival and continues to have a successful festival run.
Raised in Kensington, Maryland, Parker attended Oberlin College and received her master's degree from the European Dance Development Center in The Netherlands. 
She currently resides in San Francisco, California.