Cost
$40 members | $30 student and youth members
$60 non-members | $50 student and youth non-members
It was truly a jolly holiday when Mary Poppins flew, via umbrella, back onto the big screen in the whimsical sequel Mary Poppins Returns (2018), starring Emily Blunt reprising Julie Andrews' breakthrough role. It was an even happier surprise to see traditionally-animated penguins dancing beside her, just as they did in Walt Disney's 1964 classic Mary Poppins. Join us for a talk with Jim Capobianco, the Animation Sequence Supervisor on Mary Poppins Returns, as he discusses how his team approached topics such as: tackling a new Mary Poppins for the modern age while still paying tribute to the original, the resurgence of 2D animation in a 3D world, and the many ways in which the animation process has changed since Walt's time. 
About the Speaker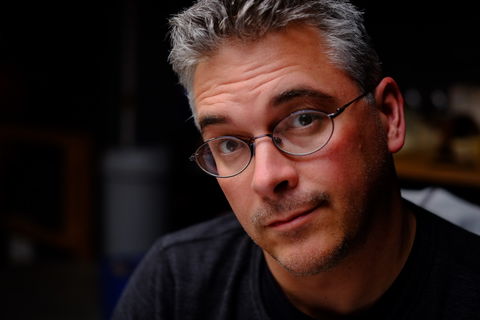 Jim Capobianco
Jim Capobianco received an Academy Award®-nomination in 2008 for Best Original Screenplay for Ratatouille (2007), then went on to write and direct the Annie Award-winning short film, Your Friend the Rat (2007), featured on the Ratatouille DVD. Capobianco directed the end credit titles for Pixar's 2008 release WALL•E. A graduate of the California Institute of the Arts, Capobianco started in the story department at Walt Disney Feature Animation on The Lion King (1994). After five years at Disney, Jim relocated to Pixar Animation Studios where he was influential on many of Pixar's films of the past 19 years, including Toy Story 2 (1999), Finding Nemo (2003), UP (2009) and Inside Out (2015). In 2009, Jim finished Leonardo (2010), his first independent film, now in the permanent collection of the MoMA NYC. 
In addition to his work as a filmmaker, Jim co-created the Bay Area International Children's Film Festival, now in its 10th year. Now with Aerial Contrivance Workshop, Jim most recently was the 2D Animation Sequence Director for Walt Disney Pictures' Mary Poppins Returns (2018) and is currently working with acclaimed composer Mason Bates and director Gary Rydstrom on The World's Greatest Synth, a Fantasia-type live symphony piece slated to premiere in Chicago in March 2020.
On-Sale Dates & Information
Tickets for Step Back in Time: Returning to Mary Poppins with Jim Capobianco will be available as follows:
Walt's Circle Donors: Purchase tickets beginning Monday, August 5 at noon by calling 415.345.6810 or emailing membership@wdfmuseum.org
Supporter and Friend-level members: Purchase tickets beginning Thursday, August 8 at noon by calling 415.345.6810 or emailing membership@wdfmuseum.org
All member levels: Purchase tickets online or at the Ticket Desk beginning Monday, August 12 at noon
Public (non-members): Remaining tickets available online or at the Ticket Desk beginning Thursday, August 15 at noon
To receive priority access to purchase tickets, you may upgrade your membership. Membership dues and Walt's Circle donations may be paid as monthly installments or as a one-time annual payment. For more information, please call the membership department at 415.345.6810.