Date
Fri, May 22 | 5:30pm PT
Cost
SOLD OUT
FREE | Sign-up Required
Join actress, author, entrepreneur, and fashion designer Ashley Eckstein and the voice of Mickey Mouse, Bret Iwan, for behind-the-scenes stories from their voiceover careers and how they achieved their dreams of working for The Walt Disney Company.
Registration
Registration for this program will open to the public starting Monday, May 11 at 10am.
Members receive priority access for registration to these programs. A limited number of spots for each program are reserved for members only on a first-come, first-served basis. To get priority access to future programs, join as a member today.
Q&A and Requirements
Questions can be submitted during the webinar through Zoom's Q&A function. Due to anticipated demand and limited Q&A time, not all submitted questions will be answered.
All participants must sign up by noon Pacific Time on the day prior to the event. Participants must have a Zoom account to attend the workshop. A link to the workshop and instructions for joining will be sent via email prior to the event.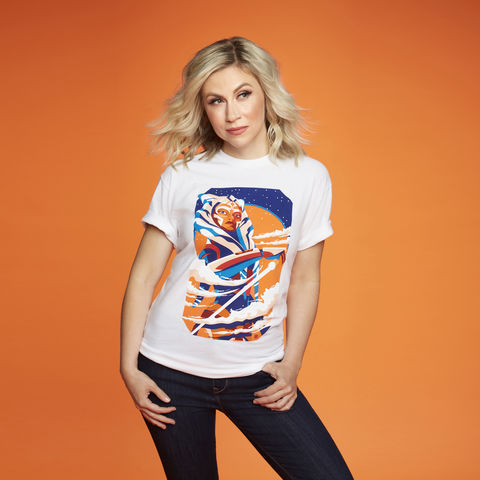 Ashley Eckstein
Ashley Eckstein has been widely recognized and honored as an actress, entrepreneur, author, and Fangirl trendsetter. Most known as the voice of Ahsoka Tano in Star Wars: The Clone Wars, Ashley also founded Her Universe in 2010—the groundbreaking fangirl fashion and lifestyle brand. A leading authority on female fandom, Ashley has been featured on CNN, Forbes, Entertainment Weekly, The New York Times, Los Angeles Times, and the Wall Street Journal, among many others. She was a speaker at Fortune Magazine's Next Gen Most Powerful Women Summit, and was chosen by Good Housekeeping magazine as one of their "25 Awesome Women" and by CNET as one of their "Women Who Inspire." Ashley is married to former Major League Baseball player and 2006 World Series MVP, David Eckstein.
Ashley's book, It's Your Universe, You Have the Power to Make It Happen, is an inspirational guide on how to make your dreams come true. She shares her own life lessons as well as lessons from iconic Disney characters, as a road-map for how to dream it and do it.
Bret Iwan
Bret Iwan has loved the legacy and story behind Walt Disney for as long as he can remember, but he never dreamt life would take him to where it has: voicing Walt's most iconic character—and carrying on a legacy he has always held in great esteem. After graduating high school in 2000, Iwan decided to pursue his love of art and animation. Iwan earned a Bachelor of Fine Arts Degree from Ringling College of Art and Design in 2004 and then moved to Kansas City, where he began his career at Hallmark Greeting Cards. Just before Iwan's fifth anniversary with Hallmark, he received an email from a college friend—and Pixar animator—which outlined the auditions that were being held to select an understudy for the voice of Mickey Mouse. Realizing this was the chance of a lifetime, Iwan didn't hesitate to submit his audition after a little practice. Weeks later, he received a call that would set things into motion, and, finally, after several auditions, Iwan was offered his dream job as the fourth official voice of the beloved character, Mickey Mouse, who was first voiced by Walt Disney in 1928. Iwan moved to Los Angeles in September of 2009 to start the next chapter of his creative career.
His first recording was in June of 2009, and, since then, he has gone on to record for Disney's theme parks, video games, toys, promotional material, game shows, live shows, Mickey Mouse Clubhouse (2006-2016), and the Mickey and the Roadster Racers (2017-2019) television series. The opportunities presented by the role continue to surprise him, and he looks forward to "fillin' in for the boss" far into the future. Iwan resides in Los Angeles, California.
Help Us Continue Our Digital Efforts
Since opening over 10 years ago, we have sought to make the museum a place where our guests could find animation, innovation, and inspiration and immerse themselves in the remarkable life story of Walt Disney—the man who raised animation to an art, tirelessly pursued innovation, and created a distinctly American legacy, transforming the entertainment world.
Over the course of our current closure, we have increased our digital presence to stay true to our mission. Your donations ensure that we can continue opening our museum virtually to the world, and that future generations can continue to be inspired by Walt Disney's life and legacy.