Cost
SOLD OUT | $30 members | $25 student and youth members
$40 non-members | $35 student and youth non-members
Walt Disney sent lights, cameras, and actors—both human and animal—to a faraway tropic island in 1959 to film one of the most beloved live-action adventure movies ever made. Swiss Family Robinson (1960) was shot entirely on the island of Tobago in the West Indies. With its palm-fringed beaches, dense jungles, and dark swamps, Tobago provided the ideal backdrop for the tale of a shipwrecked family facing an unfamiliar and perilous new life. But, as we all know, the true star of the picture was a spectacular tree house built high in the branches of a giant, real-life tree. 
Join former Disney artists Kevin Kidney and Jody Daily on a virtual journey to Tobago with film historian Aaron Willcott to find the original filming locations and discover how everything looks today—including the legendary tree house that inspired a favorite attraction at Disneyland Park. We are confident that you'll never watch Walt Disney's Swiss Family Robinson the same way again.
Autograph Session
Immediately following the program, the speakers will be present in the theater for an autograph session. The autograph session is only available for ticket holders to this program. In respect to the schedules of our special guests and audience members, we will strictly enforce an autograph limit: no more than one signature per ticket holder.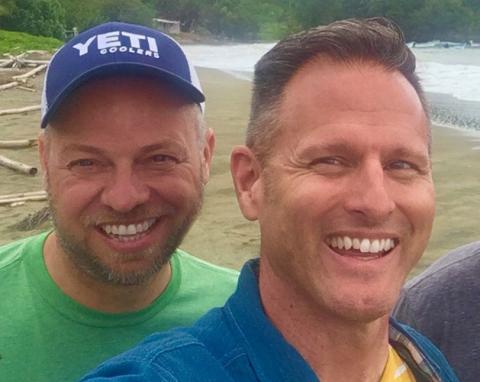 ABOUT THE SPEAKERS
Kevin Kidney and Jody Daily
The artistic duo Kevin Kidney and Jody Daily are well known to Disney fans as designers of entertainment and collectible merchandise for Disney Parks around the world. The two got their start nearly 30 years ago in Disneyland's legendary Entertainment-Art Department and have brought to life some of Disney's most memorable shows and parades, including Disneyland's original "Fantasmic!," "Mickey's Soundsational Parade," "Pixar Play Parade," Tokyo Disneyland's "Happiness is Here," and a brand-new parade for Disneyland Paris' 25th anniversary. Kevin and Jody lead a unique creative studio in Southern California—called simply "Kevin & Jody Show"—which specializes in "art varieties—all sorts" from illustration and sculpture to puppetry and stop-motion animation. Follow "Kevin and Jody" on Facebook and Instagram.