Cost
$5 members | $8 non-members
Join Mulan (1998) Co-Director Tony Bancroft and his twin brother Tom Bancroft, character designer of Mushu, for a virtual program behind the making of the film, including production, casting, music, research, and story development.
Registration
Registration for this program will open to the public starting Friday, March 19 at noon.
Members receive priority access for registration to these programs. A limited number of spots for each program are reserved for members only on a first-come, first-served basis. To get priority access to future programs, join as a member today.
Q&A and Requirements
Questions can be submitted during the webinar through Zoom's Q&A function. Due to anticipated demand and limited Q&A time, not all submitted questions will be answered.
All participants must sign up by noon Pacific Time on the day prior to the event. Participants must have a Zoom account to attend the workshop. A link to the webinar and instructions for joining will be sent via email prior to the event.
About the Speakers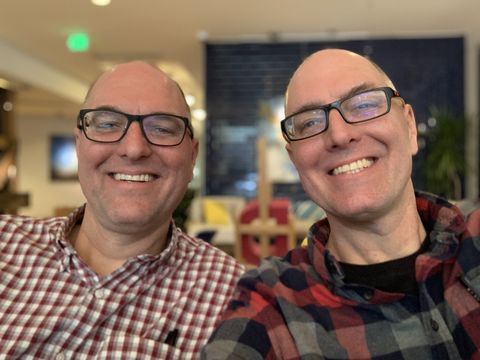 Tony Bancroft
Tony Bancroft was accepted into the California Institute of the Arts (CalArts) in 1987, where he thrived artistically and developed a lifelong passion for animation. During his 12-year career with The Walt Disney Studios, Bancroft helped create and animate Pumbaa, the lovable warthog in The Lion King (1994); Kronk, the dim-witted sidekick in The Emperor's New Groove (2000); Cogsworth, the nervous clock from Beauty and the Beast (1991); and Iago, the pestering parrot in Aladdin (1992).
Bancroft's most notable accomplishments include being the Co-Director of Walt Disney's animated film, Mulan (1998), for which he received the Annie Award for Director of the Year from ASIFA-International; and animation supervisor of Sony's Stuart Little 2 (2002), for which he received the Visual Effects Society's top award for character animation.
In recent years, Bancroft animated on Disney's Mary Poppins Returns (2018), was an executive producer on the CG feature Mosley (2019), and co-directed CG-animated feature Animal Crackers (2020) that released internationally on Netflix this summer. Currently, outside of being the Program Director of APU's Animation and Visual Effects Program, he is Lead Animator on Warner Brother's Space Jam 2—expected to release in the summer of 2021. He compiled more than 30 years of industry experience into a book, Directing for Animation, which released worldwide through Focal Press.
In their spare time, Tony Bancroft and his twin brother Tom produce a popular podcast called The Bancroft Brothers Animation Podcast, which is the #1 podcast for animation on iTunes.
Tom Bancroft
Tom Bancroft has over 30 years of experience in the animation industry, most of which as part of Walt Disney Feature Animation where he was an animator for 12 years on such Disney classics as Beauty and the Beast (1991), Aladdin (1992), The Lion King (1994), Pocahontas (1995), Tarzan (1999) and Brother Bear (2003). He is also the creator of Mushu the dragon in Disney's Mulan (1998). After Disney, he worked with Big Idea Productions as a Supervising Director/Co-Creator for a VeggieTales DVD series. His popular character design instruction books—Creating Characters with Personality and Character Mentor—have become the most recognized books on designing characters and are required textbooks at many art schools around the world.
Bancroft is half of the popular The Bancroft Brothers Animation Podcast with his twin brother Tony, as well as creator of the annual worldwide Instagram drawing event #MerMay. He is currently producing Pencil Test (2021), a documentary feature about 2D animation.
Bancroft is the Founder and Artist-in-Residence of the burgeoning Animation program at Lipscomb University, where he mentors more than 100 student animators. He lives with his family in Nashville, Tennessee.
Help Us Continue Our Digital Efforts
Since opening over 10 years ago, we have sought to make the museum a place where our guests could find animation, innovation, and inspiration and immerse themselves in the remarkable life story of Walt Disney—the man who raised animation to an art, tirelessly pursued innovation, and created a distinctly American legacy, transforming the entertainment world.
Over the past year, we have increased our digital presence to stay true to our mission. Your donations ensure that we can continue opening our museum virtually to the world, and that future generations can continue to be inspired by Walt Disney's life and legacy.