Date
Wed, Dec 16 | 5:30pm PT
Cost
$10 members | $12 non-members
Join Academy Award®-winning director, Disney Legend, and animator Glen Keane for a presentation behind-the-scenes of his feature directorial debut, Netflix Animation's Over the Moon (2020). As a special treat, watch as Keane draws one of his favorite characters from the film live.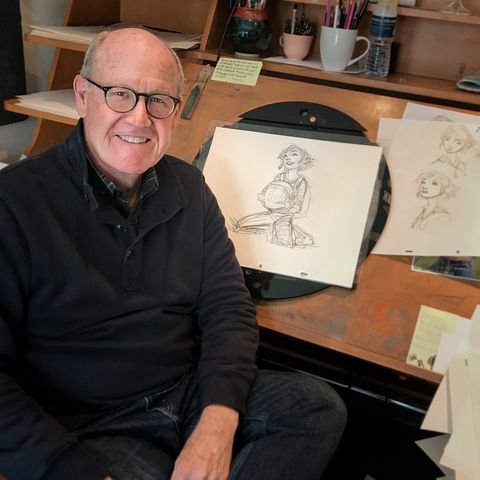 About Glen Keane
A 38-year veteran of Walt Disney Feature Animation, Glen Keane trained under Walt Disney's Nine Old Men. Keane went on to create many beloved Disney characters such as Ariel (The Little Mermaid, 1989), Beast (Beauty and the Beast, 1991), Aladdin (Aladdin, 1992), Tarzan® (Tarzan, 1999), and Rapunzel (Tangled, 2010). In 2012, Keane retired from Disney to begin Glen Keane Productions as a way to further his artistic explorations in animation, design, and film. He has since gone on to collaborate with Google, the Paris Ballet, and Kobe Bryant. He recently won an Academy Award® for his animated film Dear Basketball (2017), which he animated and directed in collaboration with legends Kobe Bryant and John Williams. His feature directorial debut Over the Moon (2020) was recently released on Netflix.
Q&A Requirements
Questions can be submitted during the webinar through Zoom's Q&A function. Due to anticipated demand and limited Q&A time, not all submitted questions will be answered. As this is a paid program, this event will not be viewable at a later time. Due to anticipated demand, we encourage purchasing tickets in advance.
On-Sale Information
Walt's Circle Donors, Supporter and Friend-level members: Purchase tickets beginning Friday, November 20 at noon by calling 415.345.6810 or emailing membership@wdfmuseum.org
All member levels: Purchase tickets online beginning Friday, November 20 at 5pm
Public (non-members): Remaining tickets available online beginning Monday, November 23 at noon
To receive priority access to purchase tickets, you may upgrade your membership. Membership dues and Walt's Circle donations may be paid as monthly installments or as a one-time annual payment. For more information, please email membership@wdfmuseum.org or call the Membership Department at 415.345.6810.