Cost
$15 members
$25 non-members | $20 seniors and students (with ID) | $15 youths
FREE for children ages 5 and under, Registration Required
Join us in welcoming Disney Legend and voice of Goofy, Bill Farmer, for an in-depth discussion of his television show, It's a Dog's Life with Bill Farmer (2020), highlighting working dogs across the United States. Following the Talk, we are pleased to welcome Guide Dogs for the Blind to provide an overview of their life-changing mission and showcase the skills of two of their highly-trained service dogs.
On-Sale Information
Tickets for It's a Dog's Life with Disney Legend Bill Farmer and Special Guests from Guide Dogs for the Blind will be available as follows:
Walt's Circle Donors: Purchase tickets online beginning Tuesday, July 18 at noon PST by emailing membership@wdfmuseum.org.
Friend, Founding, and Supporter-level members: Purchase tickets online beginning Wednesday, July 19 at noon PST by emailing membership@wdfmuseum.org.
All members: Purchase tickets online beginning Thursday, July 20 at noon PST via the Member Portal.
Public (non-members): Purchase tickets online beginning Friday, July 21 at noon PST.
About the Speakers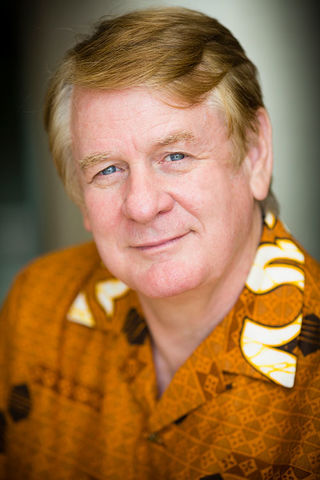 Bill Farmer
Bill Farmer has famously performed as the official voice of Disney's Goofy and Pluto characters since 1987 and his sterling voice-acting resume includes thousands of leading and supporting roles in film, television, advertising, consumer products and more. Farmer became the first voice actor to receive the prestigious Friz Freleng Lifetime Achievement Award for Excellence in Animation. Equally distinguished is the Disney Legends distinction, which Farmer received in 2009 alongside beloved entertainment icons Robin Williams and Betty White. Farmer won an Annie Award® in 2014 for his voice work in the wildly popular Mickey Mouse short film series. Further adding to Farmer's many honors is an Emmy® nomination for his memorable performances in the hit animated series, Mickey Mouse Clubhouse (2006-2016). Most recently, Bill Farmer is executive producer and on-air host of the hit television series It's a Dog's Life with Bill Farmer, which debuted on Disney+ in 2020.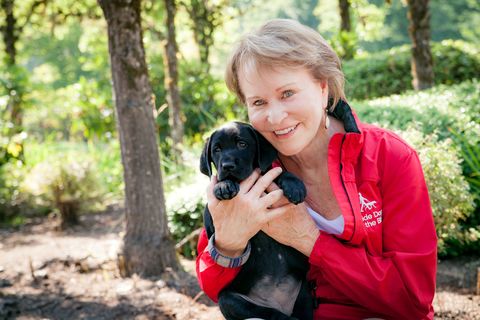 Chris Benninger
Christine (Chris) Benninger, CEO and President, joined Guide Dogs for the Blind in April 2014. Benninger brings a wealth of nonprofit and for-profit experience to her role. Prior to joining GDB, she spent 17 years leading Humane Society Silicon Valley. During her tenure there, her team's progressive approach helped save the lives of tens of thousands of animals and greatly reduce pet overpopulation problems in Santa Clara County. Under her leadership, the organization was also able to raise $25.5 million to build the Animal Community Center, the first facility of its kind in the country.
Under Benninger's leadership, Guide Dogs for the Blind has expanded its program offerings to include Orientation and Mobility training for individuals with insufficient skills to qualify for guide dog training, a companion dog program for visually impaired children and adults, and advocacy in support of GDB's visually impaired communities. In addition, annual fundraising has tripled since 2014 and a new state-of-the-art Puppy Center has been built. Current organization-wide initiatives include Diversity, Equity, and Inclusion as well as full accessibility throughout GDB and its communication channels. Benninger was elected to the International Guide Dog Federation (IGDF) Board at the 2021 IGDF Annual General Meeting. Prior to coming to GDB, Benninger honed her business skills as an auditor with Arthur Andersen & Co. as well as in her 15 years with Hewlett Packard Corporation. At HP, Benninger held managerial positions in the U.S. as well as in Europe. She also holds an M.B.A. from Stanford University.
Benninger loves to ride her bike, hike, and travel. She loves dogs and has two of her own: Theia, a career-change Golden Retriever, who now serves as an ambassador for GDB as well as Boone, a Basset Hound.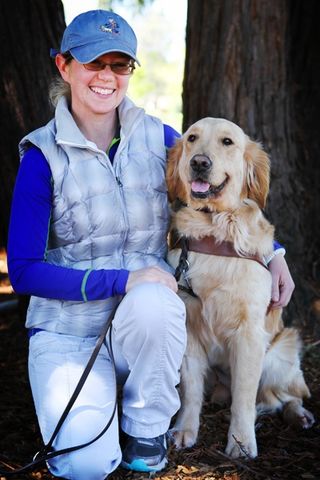 Jessica Drew
Jessica Drew, Master Guide Dog Mobility Instructor, was a puppy raiser from 1994–1996 and completed two internships at GDB's California campus. She then studied Animal Science with an emphasis in Equine Science at UC Davis from 2001–2005. During that time, she worked at the UC Davis Equestrian Center as a riding instructor and a barn supervisor. She also spent a year living at the Center for Equine Health, where she spent nights taking care of foaling mares and sick or injured horses. After graduating, she was hired at GDB as a dog care assistant. She became an Apprentice Instructor in 2006 and became a fully qualified Guide Dog Mobility Instructor three years later. Drew has been a mentor to new apprentices and is now a Master Instructor. When not at work training dogs, she enjoys horseback riding and volunteering at a marine mammal hospital.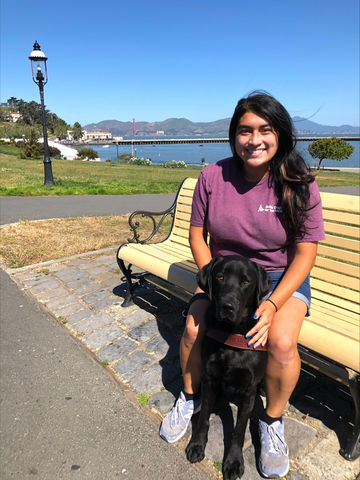 Claire Lozito
Claire Lozito, Apprentice Guide Dog Mobility Instructor III, started volunteering at Guide Dogs for the Blind as a puppy raiser when she was in 6th grade. After graduating from the University of Oregon with a major in Environmental Science and a double minor in Anthropology and Geology, Lozito applied to work at GDB. A couple years later, Lozito is living her childhood dream of training and working with guide dogs! Claire currently lives in Marin with her two cats, Big Kitty and Little Kitty, and her small black Lab, Crescent.