Date
Tue, Aug 17 | 5:30pm PT
Cost
FREE | Sign-up Required
Pixar Animation Studios is committed to ensuring that talented individuals find access, opportunity, and belonging as issues of diversity, equity, accessibility, and inclusion continue to be spotlighted and given greater voice. Join us as Pixar Layout Lead Andrea Goh and Editorial Coordinator Jake Kaplan discuss their roles at Pixar and how #PixPride initiatives have affected them in their personal lives and work at the award-winning animation studio.
Registration
Registration for this program will open to the public starting Friday, August 6 at noon.
Members receive priority access for registration to these programs. A limited number of spots for each program are reserved for members only on a first-come, first-served basis. To get priority access to future programs, join as a member today.
Q&A and Requirements
Questions can be submitted during the webinar through Zoom's Q&A function. Due to anticipated demand and limited Q&A time, not all submitted questions will be answered.
All participants must sign up by noon Pacific Time on the day prior to the event. Participants must have a Zoom account to attend the workshop. A link to the webinar and instructions for joining will be sent via email prior to the event.
About the Speakers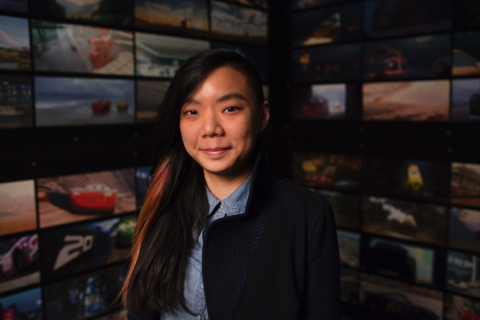 Andrea Goh
Andrea Goh joined Pixar Animation Studios in June 2016 as a Layout Artist on Cars 3 (2017). Since then, Goh worked as a Layout Artist on numerous Pixar titles including Academy Award©-winning films Incredibles 2 (2018), Toy Story 4 (2019), Onward (2020), Soul (2020), and the upcoming Disney+ series Dug Days (2021). Goh also worked as a Director of Photography on the series Pixar Popcorn, which premiered on Disney+ on January 22, 2021. Currently, Goh is the Layout Lead on Pixar's upcoming feature film Lightyear, releasing on June 17, 2022.  
As a Layout Lead, Goh works as one of the cinematographers that arranges the camera and staging of shots in a feature film. She uses the art of composition and the technicality of scene assembly to create a sequence of shots made up of 3D characters and sets, in relation to the camera angle, lens, and camera movement. As one of the two Layout Leads on the film, she also communicates with other department leads to promote team inclusion and problem solving.  
Goh grew up in Kuala Lumpur, Malaysia, before moving to the United States in 2013. She attended the Academy of Art University where she received her BA in Animation with an emphasis in Rigging.
She currently resides in Berkeley, CA. 
Jake Kaplan
Jake Kaplan joined Pixar Animation Studios in June of 2017 as a Story Production Intern. After completing his internship, Kaplan was hired at Pixar full-time where he worked as the Story Production Assistant on Incredibles 2 (2018). He then went on to work as the Art and Sets Coordinator on the Academy Award©-winning film Soul (2020). Kaplan currently works as the Editorial Coordinator on Pixar's upcoming feature film Lightyear, releasing on June 17, 2022.
As the Editorial Coordinator, Kaplan helps to prioritize exports and deliveries between the Editorial and Story, Script, Layout, and Animation departments. Kaplan also tracks outstanding fixes, shot status updates, and schedules on both a shot and sequence level. Additionally, he collaborates with leadership and other departments on the feature to meet production needs while ensuring his team has the time and resources to do their best work.
Prior to Pixar, Kaplan worked at Warner Bros. Animation on the New Looney Tunes series (originally titled wabbit.) and the variety show Right Now Kapow.
Kaplan grew up in Ewing, New Jersey and attended the School of Visual Arts in New York where he received his BFA in Animation.   
He currently resides in Oakland, CA with his partner and his elderly cat, Yoda.
Help Us Continue Our Digital Efforts
Since opening over 10 years ago, we have sought to make the museum a place where our guests could find animation, innovation, and inspiration and immerse themselves in the remarkable life story of Walt Disney—the man who raised animation to an art, tirelessly pursued innovation, and created a distinctly American legacy, transforming the entertainment world.
Over the past year, we have increased our digital presence to stay true to our mission. Your donations ensure that we can continue opening our museum virtually to the world, and that future generations can continue to be inspired by Walt Disney's life and legacy.