Cost
FREE | Registration Required
Date
Wed, Nov 2 | 5:30pm PT
Join Pixar artist Ana Ramirez as she discusses her career in animation with an emphasis on her work as sets shading designer on Disney and Pixar's Academy Award®-winning film Coco (2017).
During the month of November, visit the museum on Saturdays and Sundays to see Ramirez's work in action as we screen Coco in our theater. See our calendar prior to your visit for showtimes.
Q&A and Requirements
Questions can be submitted during the webinar through Zoom's Q&A function. Due to anticipated demand and limited Q&A time, not all submitted questions will be answered.
All participants must sign up by 5pm PT on Tuesday, November 1. Participants must have a Zoom account to attend the webinar. A link to the webinar and instructions for joining will be sent via email prior to the event.
On-Sale Information
Tickets for the program listed above will be available as follows:
All member levels: Reserve tickets online beginning Thursday, October 13 at noon
Public (non-members): Remaining tickets available online beginning Friday, October 14 at noon
About the Speaker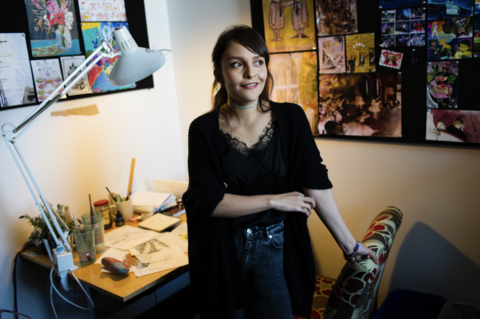 Ana Ramirez
Ana Ramirez joined Pixar Animation Studios as an intern in 2013. After completing schooling at California Institute of Arts (CalArts), Ramirez returned to Pixar in 2015 as a full-time sketch artist. Ramirez worked as a sets shading designer on the Academy Award®-winning feature films Coco (2017) and Toy Story 4 (2019). She also recently served as a background artist on the Academy Award®-nominated short film, Burrow (2020). As an artist, Ramirez works with the art departments to help develop the visual look of a film's characters, set dressings, graphics, shading, and overall color. She is currently working on an upcoming unannounced Pixar project.
Prior to working at Pixar, Ramirez did freelance work for Google, DreamWorks Television, Jib Jab, and FOX. Raised in Guanajuato, México, Ramirez's primary schooling took place in México and a short period in the United States. After high school, she moved to France to attend ESMA Montpellier Art School, and then returned to the States to study at CalArts where she earned a Bachelor of Fine Arts degree in Film and Video.
She currently lives in San Francisco, CA.