Cost
FREE | Sign-up Required
Date
Fri, Apr 24 | 5:30pm
In keeping with our mission, The Walt Disney Family Museum is finding new and unique ways to connect to our audience virtually. We are thrilled to announce our new Happily Ever After Hours virtual series with Disney luminaries, including animators, artists, directors, and Imagineers, who will discuss their careers and connections to Walt's story. Hosted via Zoom webinar, audience members will have the opportunity to submit questions to our special guests in advance and watch them answered live. Grab a refreshment and hear from some of your favorite Disney personalities from the comfort of your home.
The Walt Disney Family Museum is excited to invite you to join Composer and Conductor Fabrizio Mancinelli for the fourth installment of the museum's newest virtual series, Happily Ever After Hours. From the comfort of your home, join Mancinelli as he discusses his process for composing films, his work on Andreas Deja's upcoming animated film Mushka alongside Disney Legend songwriter and composer Richard Sherman, and how the music of Disney's Fantasia (1940) influenced his career.
Due to anticipated demand and limited Q&A time, not all submitted questions will be answered. All participants must sign up by noon Pacific Time on the day prior to the event. Participants must have a Zoom account to attend the workshop. A link to the workshop and instructions for joining will be sent prior to the event.
Registration
Registration for this program will open to the public starting Monday, April 13 at 10am through this event page.
Members receive priority access for registration to special programs. A limited number of spots in the for each program are reserved for members only on a first-come, first-served basis. To get priority access to future programs, join as a member today.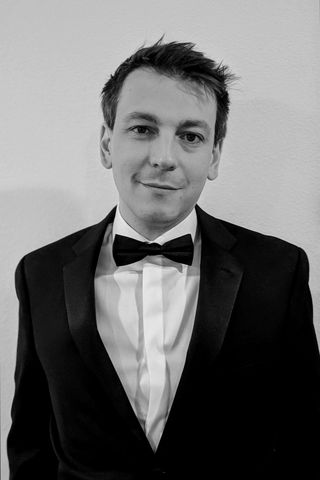 About the Speaker
Italian composer and music producer Fabrizio Mancinelli grew up within the medieval walls of L'Aquila, Italy, a lively town rich with cultural institutions. Surrounded by narrow streets lined with Baroque and Renaissance churches, Mancinelli was attracted at an early age to fine arts, the opera and eventually, film scores.
Following the passionate advice of composer Gian Carlo Menotti (whom he later assisted in the staging of his operas at the Spoleto Festival in Italy), Mancinelli enrolled in the Music Composition Program at the Conservatory Alfredo Casella, L'Aquila, Italy where he graduated in 2006 with honors in both composition and conducting. Soon after he went on to study under the guidance of BAFTA and Academy Award®-winning composer Luis Bacalov. Pursuant to receiving a Fulbright Grant, Mancinelli studied Scoring for Motion Pictures and Television at the University of Southern California and graduated in 2009.
Since then, Mancinelli has composed music for multiple venues and media—including concerts, theater, film, television and the web—and has closely collaborated with many different directors and prestigious institutions. His music for the Italian Rai 3 TV talk show Agora aired daily from 2010–17. His other clients include The Walt Disney Studios, Feeln (Hallmark), Lionsgate, Rai, Mediaset (Taodue), Studio Bozzetto, Felix Film, NBC, Dick Clark Production Company, The Golden Globes, Wizart Animation, and Warner Bros. Animation.
He recently completed the original score and an original song for the animated feature The Snow Queen: Mirrorlands (Wizart Animation - Universal), and the original scores for the thriller Coyote Lake (Good Deed Entertainment/Cranked Up) and for the Italian comedy Scappo a Casa (Agidi/Medusa), starring the Italian renowned comedian Aldo Baglio. His original score for the musical Beauty (winner of the Alice Nella Citta's section at the 2018 Rome Film Festival) has been awarded the Best Original Score Award at the 2018 Genova Film Festival.
Current projects include Andreas Deja's animated film Mushka, on which he will work alongside Mary Poppins (1964) songwriter Richard M. Sherman. Mancinelli is a Sundance Film Music Fellow (2015), BMI Conducting Fellow (2016), voting member of the Academy of Television Arts and Sciences (Emmys) and of ASIFA, and founder of Fab Music, Inc.—a music and sound production company based in Glendale, California.
Help Us Continue Our Digital Efforts
Since opening over 10 years ago, we have sought to make the museum a place where our guests could find animation, innovation, and inspiration and immerse themselves in the remarkable life story of Walt Disney—the man who raised animation to an art, tirelessly pursued innovation, and created a distinctly American legacy, transforming the entertainment world.
Over the course of our current closure, we have increased our digital presence to stay true to our mission. Your donations ensure that we can continue opening our museum virtually to the world, and that future generations can continue to be inspired by Walt Disney's life and legacy.