Cost
$20 members | $15 student and youth members
$30 non-members | $25 student and youth non-members
Join animator and animation historian Tom Sito as he presents his newest book—Eat, Drink, Animate: An Animator's Cookbook, published by Focal Press. Sito will take you through the history behind recipes from the cookbooks of Disney Legends, including Mary Blair, Frank Thomas, and Ward Kimball, and more contemporary Disney innovators, including Pixar's Chief Creative Officer Pete Docter and composer Michael Giacchino.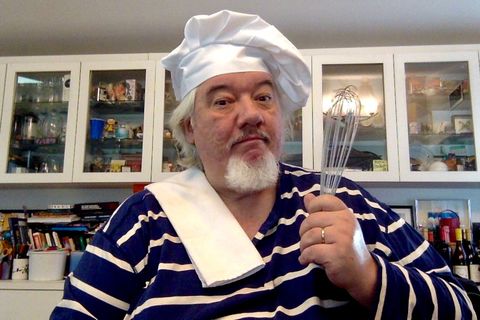 About the Speaker
Tom Sito is a film historian, animation professor, and former Disney animator. He began at Walt Disney Animation Studios on Who Framed Roger Rabbit (1988), and his credits include The Little Mermaid (1989), The Prince and the Pauper (1990), Beauty and the Beast (1991), Aladdin (1992), The Lion King (1994), Pocahontas (1995), Fantasia/2000 (1999), and Dinosaur (2000). Outside of Disney, Sito contributed to Warner Bros' Osmosis Jones (2001), DreamWorks' Shrek (2001) and Fox's Garfield. Additionally, he worked on TV shows such as He-Man and the Masters of the Universe (1983), She-Ra: Princess of Power (1985), and Super Friends (1978). 
Sito was awarded the June Foray Award by ASIFA/Hollywood in 2011 for a lifetime of service to the animation community. He is President Emeritus of The Animation Guild Local 839 (Hollywood), currently serves as the Vice President of the International Animators Society (ASIFA/Hollywood), and is a member of the Board of Governors of the Academy of Motion Picture Arts and Sciences®. Today he teaches animation at the University of Southern California. 
Sito has lectured around the world on animation, and is the author of several books, including: Drawing the Line: The Untold Story of the Animation Unions from Bosko to Bart Simpson (2006), Timing for Animation (2009), Moving Innovation: A History of Computer Animation (2013), On Animation: The Director's Perspective (2018), and Eat, Drink, Animate: An Animator's Cookbook (2019).
On-Sale Information
Tickets for Eat, Drink, Animate: An Animator's Cookbook with Tom Sito will be available as follows: 
Walt's Circle Donors

: Purchase tickets beginning Monday, November 4 at noon by calling 415.345.6810 or emailing 

membership@wdfmuseum.org

Supporter and Friend-level members

: Purchase tickets beginning Wednesday, November 6 at noon, by calling 415.345.6810 or emailing 

membership@wdfmuseum.org

All member levels

: Purchase tickets online or at the Ticket Desk beginning Monday, November 11 at noon

Public (non-members)

: Remaining tickets available online or at the ticket desk beginning Wednesday, November 13 at noon
To receive priority access to purchase tickets, you may upgrade your membership. Membership dues and Walt's Circle donations may be paid as monthly installments or as a one-time annual payment. For more information, please call the Membership Department at 415.345.6810.