Cost
FREE for members | $8 non-members
Date
Fri, Dec 10 | 5:30pm PT
As part of our annual festivities in honor of Walt's birthday, join us for a virtual conversation with Susana Tubert, Creative Director of Disney Live Entertainment, as she shares insights from her work leading the development of beloved holiday celebrations in Disney Parks and how, in collaboration with Walt Disney Imagineering, she honors Walt's tradition of bringing immersive and engaging experiences to guests during the holidays.
Requirements
All participants must sign up by noon PT on Thursday, December 9. Participants must have a Zoom account to attend the webinar. A link to the webinar and instructions for joining will be sent via email prior to the event.
On-Sale Information
Tickets for Cultural Festivals and Celebrations at the Disneyland Resort will be available as follows:
All member levels: Purchase tickets online beginning Monday, November 22 at noon
Public (non-members): Remaining tickets available online beginning Wednesday, November 24 at noon
To receive priority access to purchase tickets, you may upgrade your membership. Membership dues and Walt's Circle donations may be paid as monthly installments or as a one-time annual payment. For more information, please email the Membership Department at membership@wdfmuseum.org.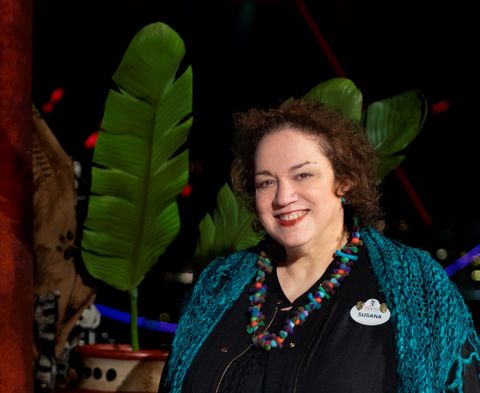 About the Speaker
Susana Tubert is Creative Director of Disney Live Entertainment, a world-class team of dedicated, professional content creators at Walt Disney Imagineering and its affiliates.
In her role, Susana provides creative leadership to show directors and writing teams on a variety of projects, including spectaculars, parades, stage shows, atmosphere entertainment, cultural festivals and special events. She also collaborates with Imagineers on story development and design of attractions and immersive experiences.
Susana oversees the development of treatments, scripts, storyboards, art direction, costume design, music and media production, and all other creative elements that bring Disney stories to life. Susana also serves on various Diversity, Equity & Inclusion initiatives, including the Creative Inclusion Council, the WDI Creative Council and Disney Live Entertainment Inclusion Advisory Council.
Prior to joining Disney, Susana worked in the theatre industry as a director, writer and composer. She co-founded and served as Executive Director of the Latino International Theater Festival of New York, Inc., where she curated and produced TeatroStageFest, an award-winning, official event of the City of New York that featured groundbreaking stage productions from New York, Latin America, the Caribbean and Spain. 
As part of TeatroStageFest's year-round programming, Susana hosted master classes and workshops for emerging artists, and conceived and launched the Young Playwrights Latino Challenge citywide competition for high school students. She presented indoor and outdoor TeatroStageFamily shows, and produced a theatre tour to Colombia, Argentina and Brazil, as well as a four-city tour within the United States.
A long-time resident of New York, Susana has been a Guest Director and Visiting Professor at Dartmouth College, New York University and in Toni Morrison's Atelier at Princeton University.