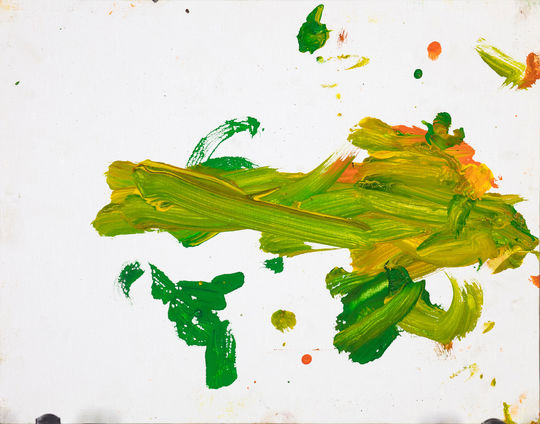 Chimpanzee, Republic of the Congo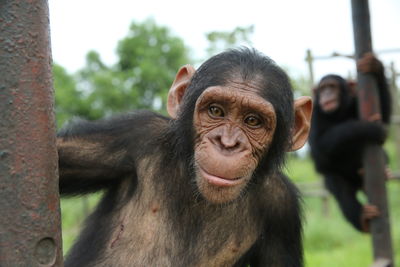 Rescued from a poacher camp by rangers close to Mkobai village in the Likouala region, Kabi arrived at the Tchimpounga Center very tired after being transported via several planes. It was a long trip for such a tiny baby! Despite that, Kabi was in good health, though quite scared and depressed. Now four years old, Kabi is good friends with fellow chimpanzee, George, who he initially integrated alongside. Kabi is also very close with Ebelle, Tina, and Vienna, and each morning the five young chimpanzees head to the nearby forest with their caretakers. Kabi is playful, happy, and very smart. He loves to investigate around him, sometimes observing the caretakers and attempting to mimic their actions. He also has a good time digging holes with a stick. When the caretakers brought a mirror out to entertain the chimpanzees, only Kabi recognized his reflection as his own, gesturing with his mouth and having so much fun.
Republic Of The Congo
Chimpanzees and other wildlife rescued by the Jane Goodall Institute find a new home at the Tchimpounga Chimpanzee Rehabilitation Center in the Republic of the Congo. Many orphaned by the international illegal wild meat and pet trades, these chimpanzees receive expert care and rehabilitation by Tchimpounga's staff and are adopted into new chimpanzee families. Tchimpounga also stands as a beacon against wildlife crime through a "Triangle Approach," which supports relationships with law enforcement and partnership with communities to address the drivers of the illegal trade through sustainable livelihoods, public awareness, and environmental education.
Founded in 1992, Tchimpounga is one of the largest chimpanzee sanctuaries across countries in Africa, having provided care to more than 200 individuals. Located within the Tchimpounga Nature Reserve, Tchimpounga's chimpanzees are cared for at a main sanctuary site, as well as three forested island sanctuary sites by Dr. Rebeca Atencia, JGI-Congo's executive director, and a dedicated team of expert caregivers.
Tchimpounga's staff provide individualized care plans for each rescued chimpanzee while supporting and ensuring their welfare as they are integrated into communities of other chimpanzees, many of whom are unrelated to one another. Tchimpounga is also home to the Chimpanzee Welfare Index, created by Dr. Atencia (based upon the Great Ape Welfare Index by Amanda Fernie) which rates welfare across criteria ranging from social, psychological, and physical well-being. Connected with local communities, the work at Tchimpounga extends beyond the sanctuary through a holistic approach that tackles the drivers of illegal trade like poverty and lack of available information. By investing in locally grown fruits for the chimpanzees, supporting law enforcement agency confiscations of endangered wildlife, and offering school-based educational programs for youth as well as information billboards, JGI is making great strides in the work to end the trade for good. The facility has also successfully rescued, rehabilitated, and released several groups of mandrill monkeys, pangolins, and a variety of other animals.
We build on the work of our model facility at Tchimpounga, as well as on Dr. Goodall's inspiring thought leadership, writings, and advocacy to improve non-human animal welfare globally. Through innovations in captive care, advocacy and cross-sectoral partnerships, JGI makes sure that every chimpanzee is provided the respect and quality of life they deserve. Through their care model and evaluation system known as the Chimpanzee Welfare Index, JGI is proud that every chimpanzee in Tchimpounga is at or above 97% for positive welfare—which has continued to increase since its implementation. The model is one they share to improve the standards and wellbeing of captive apes around the world.
Artwork Proceeds
Proceeds from the sale of artworks made by the featured endangered animals will go towards supporting their respective partner sanctuary and the important conservation work they do. Proceeds from the sale of Andreas Deja's wildlife-inspired artwork will benefit The Walt Disney Family Museum's educational initiatives, including the At-Promise Youth Animation Academy.
Costs related to framing, production, and packing materials are included in the retail price of the artwork. Shipping costs and sales tax are added on during the checkout process.
Shipping and Pickup
When purchasing an artwork, please select either pickup or delivery. Artworks designated for shipment will be shipped to the recipient after the exhibition closing (currently scheduled for October 16, 2022), no later than December 1, 2022 via FedEx insured, signature required. Shipping is available only to locations within the U.S.
Artworks designated for pickup at the museum will be available after the exhibition closes, tentatively scheduled for October 16, 2022 (subject to change, customers will be notified of changes). Directions and procedure regarding pickup will be provided before the exhibition closes.
Framed Artworks and Prints
All original artworks are sold as-is and are shipped in the frame fabricated or sourced for the exhibition—no exceptions. Prints are sold unframed.
Artwork Purchase Excluded from Discounts
Since the sale of these artworks is intended for fundraising purposes, the purchase of these artworks are excluded from any discount and coupons, including the member store discount.
If you have any questions, please email marketing@wdfmuseum.org