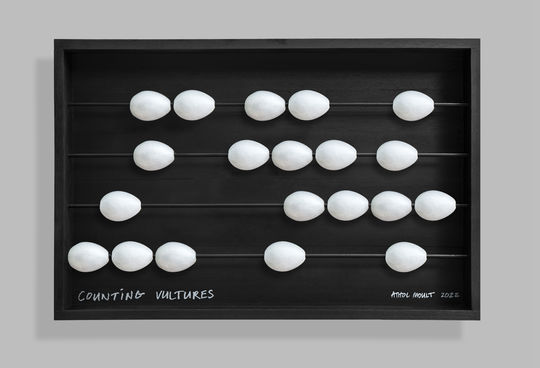 Organization
Wildlife ACT
Medium
Ceramic, wood, and metal
Artwork Dimensions
22.6 x 35 x 4.3
The concept of "abacus animals" came about when I realized that as soon as a wild animal is numbered, there's a good chance that its days are also numbered. Conservation organization Wildlife ACT begin their uphill battle to increase the numbers and save the species by documenting each bird with a number, allowing them to identify and track the birds. I molded a 3D scan of an actual Bearded Vulture's egg and created 20 acrylic casts for each abacus. By making the sculpture interactive, the viewer can move the eggs as if counting using an abacus.
South Africa
Athol Moult (b. 1967) is a contemporary South African artist. His work focuses on raising awareness to the conservation of our fast-disappearing natural world. Inspired by Africa's eleven endemic vultures, these artworks celebrate the vulture and the people working to ensure its species' survival.
"I have created a series of eleven sculptures in bronze, each one-hand painted using numbers and letters in a graphic pattern to illustrate the limited number of birds left in the wild.
"Vultures lay between one and two eggs a year. The ability to track the birds enables Wildlife ACT to establish population numbers from the air each year. The eggs are critical in the survival of the species. I molded an actual vulture's egg, and created 11 life-size bronze eggs."
South Africa
Wildlife ACT is a non-profit organization that was established in South Africa in 2010 with a vision to save Africa's iconic and endangered species from extinction, thereby enabling broad-scale biodiversity conservation. Through strategic partnerships and sustainable funding models, the organizations mission is to implement professional and strategic monitoring and research to enable and inform effective conservation management of wildlife; identify and develop programs within surrounding communities to support wildlife conservation; secure existing protected areas and support range expansion of African wildlife.
Wildlife ACT's vulture conservation program works towards the following three main objectives: population stabilization and habitat protection, education and community conservation, and improved advocacy.
They believe that partnerships are crucial to effectively carry out the work required in this space, and that partnerships bring stability and consistency of approach with the benefits of continuity. As active members of Project Vulture, the Zululand Vulture Project, the Bearded Vulture Task Force, and the South African National Vulture Task Force, these objectives and the work that Wildlife ACT does to achieve them are guided by the Multi-species Action Plan to conserve African-Eurasian Vultures (Vulture MsAP), and contribute to the Biodiversity Management Plan for Vultures in South Africa.
Artwork Proceeds
Proceeds from the sale of artworks made by the featured endangered animals will go towards supporting their respective partner sanctuary and the important conservation work they do. Proceeds from the sale of Andreas Deja's wildlife-inspired artwork will benefit The Walt Disney Family Museum's educational initiatives, including the At-Promise Youth Animation Academy.
Costs related to framing, production, and packing materials are included in the retail price of the artwork. Shipping costs and sales tax are added on during the checkout process.
Shipping and Pickup
When purchasing an artwork, please select either pickup or delivery. Artworks designated for shipment will be shipped to the recipient after the exhibition closing (currently scheduled for October 16, 2022), no later than December 1, 2022 via FedEx insured, signature required. Shipping is available only to locations within the U.S.
Artworks designated for pickup at the museum will be available after the exhibition closes, tentatively scheduled for October 16, 2022 (subject to change, customers will be notified of changes). Directions and procedure regarding pickup will be provided before the exhibition closes.
Framed Artworks and Prints
All original artworks are sold as-is and are shipped in the frame fabricated or sourced for the exhibition—no exceptions. Prints are sold unframed.
Artwork Purchase Excluded from Discounts
Since the sale of these artworks is intended for fundraising purposes, the purchase of these artworks are excluded from any discount and coupons, including the member store discount.
If you have any questions, please email marketing@wdfmuseum.org