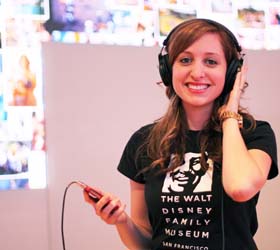 On what would have been Walt Disney's 112th birthday, on December 5, 2013, The Walt Disney Family Museum is proud to launch its very own podcast! This monthly podcast will endeavor to further Walt's story. From interviews with people who knew or admire him—such as Disney Legends, animators, Imagineers, and more—recaps and clips from special events at the Museum, information about upcoming programs, to tidbits about Walt himself; this will comprise just some of the content for this show. So, without further ado, we present our premier episode below!
WDFM Podcast, Episode 1: Diane Disney Miller and Don Hahn
First aired: December 5, 2013 
In our premier episode, we are honored to present, with a heavy heart, the final interview from the museum's founder—and Walt Disney's daughter—Diane Disney Miller. We also chat with Disney Legend and acclaimed producer Don Hahn (Beauty and the Beast, The Lion King) about the holiday film he produced and directed exclusively for The Walt Disney Family Museum: Christmas with Walt. 
Listen to it below, or here: Direct Download | iTunes