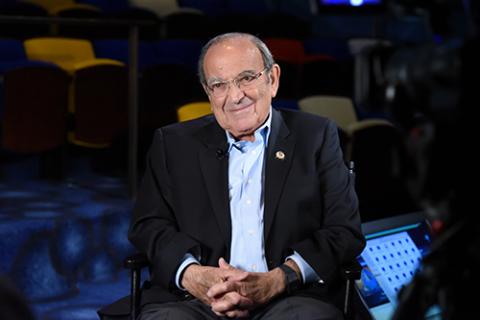 We are deeply saddened by the passing of our dear friend, Disney Legend, and Walt Disney Imagineering Ambassador Marty Sklar. Marty was instrumental in preserving Walt's spirit over many years. For more than a half of a century, Marty helped share the magic of Disney-themed entertainment with people around the globe.  
Born on February 4, 1934 in New Brunswick, New Jersey, Marty began working for The Walt Disney Company one month before the opening of Disneyland in July 1955. He initially worked as a writer and communications specialist for the Company. He wrote scripts for various shows and presentations for Walt Disney. Marty was at times referred to as "the voice of Walt."
In 1961, Marty moved to WED Enterprises, today known as Walt Disney Imagineering, as a part of a team assigned by Walt to develop Company-sponsored attractions for the 1964­–65 New York World's Fair. Beginning in 1974, he moved into executive roles. Marty became a key force in guiding the creative development for theme parks, shows, Disney resort hotels, and the Disney Cruise Line ships. He was the only person who both worked on and attended the grand opening of all eleven Disney parks, dedicating 54 years to the Company. In 2001, Marty was inducted as a Disney Legend.
Marty, who generously presented a number of inspiring programs at the museum, helped preserve Walt's spirit of imagination throughout his career. In recognition of his contributions and impact, in November 2016, the museum awarded Marty with the Diane Disney Miller Lifetime Achievement Award at its gala at the Disneyland Resort, brilliantly emceed by Neil Patrick Harris. Recently, in June 2016, Marty was appointed to the museum's esteemed Advisory Committee.
Through his books Dream It! Do It! My Half-Century Creating Disney's Magic Kingdoms and One Little Spark! The Road to Imagineering, his stories and insight will continue to spark the imaginations of generations to come.
Our thoughts are with his family during this time.
We will miss you, Marty.