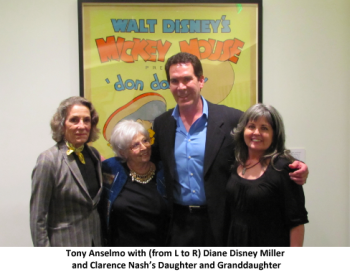 In the 1940s, Walt Disney once referred to Donald Duck as the Clark Gable of his stable, meaning that the irascible duck was as important a talent to the Walt Disney Studios as Clark Gable was to MGM Studios. Donald's importance to the Disney "stable" is evidenced by his starring role in more cartoon shorts (128) than any other Disney character, including Mickey Mouse.
On Saturday, January 22, The Walt Disney Family Museum hosted an event featuring the man behind the voice of Donald Duck for the past 27 years, Disney Legend, Tony Anselmo. Director of Visitor Experience and Interpretation, Donna Tuggle, served as moderator for this rare opportunity to get a peek behind the scenes to hear what goes into the creation of one of Walt Disney's most enduring and beloved characters.
Donald's first appearance was in the 1934 Silly Symphony, The Wise Little Hen. As with Mickey, his physical appearance changed over the years from a thinner more elongated figure into the wonderfully rounded Donald we know today. One thing has not changed however, his instantly recognizable voice. The cantankerous duck has been voiced by just two men in his 77 years. There is a poignant link between these two men as we learned during this interesting and entertaining event.
The voice of Donald Duck was created by Disney Legend, Clarence Nash. The Donald voice we love today was actually one of several animal voices Clarence created to entertain children while on his route as an Adohr Milk Company deliveryman. During an impromptu audition at the Disney Studios, Clarence ran through his repertoire of animal voices without much reaction. But, when he came to his voice of a goat recitingMary Had Little Lamb, one of the staff got Walt Disney, who, upon hearing Clarence's goat exclaimed, "That's our talking duck!" And the rest is history. Clarence provided the voice for Donald Duck for the next 50 years.
Tony Anselmo's first Disney movie experience was Mary Poppins. He was fascinated with the animation and the ability of live-action characters to interact in a fantasy world of animation. He was left asking the question, "How did they do that?"
Tony decided to learn all he could about animation and set forth to create a portfolio of his work that might gain him entry into a career in the world of animation. He wrote to several of Walt Disney's great animators, now known as Walts' Nine Old Men. He was gratified to actually receive responses and encouragement from these talented men. He took to heart their advice to learn figure drawing and took classes at night to learn more and hone his skills. At age sixteen, he took his portfolio to the Disney Studios and received favorable reviews. He was advised to take courses at Cal Arts to build upon his current talent. He mentioned that he could not afford Cal Arts and that his father wanted him to go to business school. Tony was asked to leave the room for a few minutes. When invited to return, he was informed that he was the recipient of a Disney Family Fellowship. "So," Tony said, "the Disney family paid for my education."
After a couple of years at Cal Arts, Tony was invited to attend the Disney School of Animation, created by Ron Miller, at the Disney Studios. He was part of a class of about fourteen students which included such future talents as Joe Ranft and Tim Burton. The Disney School of Animation was an inspiration to Tony. The faculty was made up of instructors who were retired or long-time animators who had worked with Walt Disney. The mission of the School was to pass on the skills of the original Disney masters to a new generation of animators.
Tony recounted working with Jack Hannah, who had been animating Donald as far back as the 1930s. Jack relayed the philosophy of animating Donald and bringing his personality to the screen. There was a standard of excellence conveyed by the Disney animation veterans as stated by Eric Larson: "Do your best because this (your work) will be around long after we are gone."
On his first day at the Disney Studios, Tony met Clarence Nash, who took the new students on a tour of the Studio, and treated the group to a few comments in Donald's voice. A friendship was established and Clarence would stop in on a regular basis to see how Tony was doing. He showed Tony how the Donald voice was created. Tony could not produce the voice at first, but with practice, he was able to produce a reasonable Donald voice. It was just for fun. Tony had no aspirations of performing Donald's voice in any public way. However, he enjoyed the challenges Clarence periodically came by to offer, such as "How would Donald say this….?" The visits were fun, but Tony saw no real reason for them other than perhaps Clarence had too much time on his hands. Meanwhile, Tony went on to do clean up animation on several Disney animated features beginning with The Little Mermaid up through Home On The Range.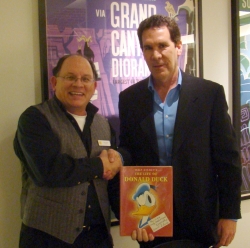 When asked how it came to be that he became the voice of Donald Duck, Tony related that it was a bittersweet situation that he neither envisioned nor pursued. In 1984, Donald's 50thanniversary, Clarence Nash finally appeared to be receiving the acknowledgement he so richly deserved. An appearance on The Tonight Show and his selection as the 1985 Tournament of Roses Parade Grand Marshall were but two of several 50th anniversary celebratory events for Donald (Clarence). On January 1st 1985, Tony noticed that Clarence did not appear as the parade's Grand Marshall. Soon after, Tony was invited to visit Clarence at St. Joseph's Hospital in Burbank. Clarence informed Tony that he would be passing on soon and that he had made arrangements for Tony to take over the task of providing Donald's voice. With the loss of his friend imminent, the news that he was now going to be the voice of Donald was not a cause for excitement. He now realized why Clarence had been stopping by all those years. He was sad to lose a friend, but had a new challenge to undertake.
For The Prince and the Pauper, Tony had the rare honor being one of two animators to animate the same character he gave voice to. The other was former classmate and Pixar legend Joe Ranft, who animated and gave voice to the caterpillar Heimlich in a bug's life.
Providing Donald's voice can be physically taxing. After producing one of Donald's long tantrums in the recording studio, Tony sometimes feels light-headed. He once asked Jack Hannah if Clarence ever had the same problem. In his gravelly voice, Hannah replied that Clarence had fainted several times in the studio.
To keep his voice sharp and consistent, Tony never voices Donald before 11 am (so his sinuses are clear) and never eats before recording (food can affect the voice). Many words are impossible for Donald to articulate: words that start with a "t" sound like "d," words with the letter "s," especially double "s," are easily distorted. With practice, Clarence, the studio and later Tony have learned that short sentences work best for Donald. Perhaps the best piece of advice Tony received was, if you come across a word that Donald can't articulate, find another word that means the same thing.
Tony explained that preserving the integrity of the character is paramount. Some new shows have had scripts that have Donald making statements that seem out of character. When these situations arise, Tony has pushed back to the scriptwriters to ensure that his words represent what Donald actually would say. Donald would never say "Hey, baby!" but he would say "Hiya toots!" Tony reminds us that he is simply a steward of Donald's voice and character until the torch is passed on. Whoever carries the torch must continue to maintain that integrity.
The investment in a young talented artist by the Disney Family Fellowship decades ago has provided a wonderful return. The young sixteen-year-old Tony Anselmo has evolved into a fine animator and excellent voice artist. In September 2009, Tony became a Disney Legend, cementing his place Disney history.
Once again, The Walt Disney Family Museum provided a wonderful afternoon of insight and entertainment. We look forward to enjoying Tony's work for many years to come.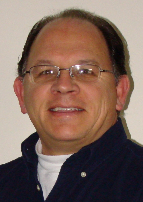 Frank Teurlay
Volunteer at The Walt Disney Family Museum