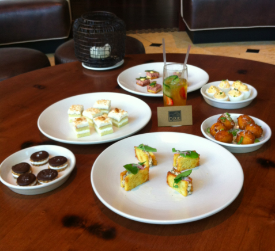 The Walt Disney Family Museum presents Animate Your Night—a new Museum-wide monthly after-hours party. Experience the galleries in a whole new light and illuminate your imagination with music, performance, film screenings, and hands-on art activities.
In 1960, the "showman of the world" Walt Disney was asked to be the Chairman of the Pageantry Committee for the winter olympics held near Lake Tahoe, California (video below). This would involve programming the opening and closing ceremonies, the victory ceremonies for each event, and the Olympic torch relay. In the same spirit, this Friday July 27 from 7 to 10pm, Animate Your Night: Ready, Steady, GO! celebrates the opening ceremonies of the 2012 Olympic Games in London.
Immerse yourself in an animated environment using green screen technology, check out the opening ceremonies on the big screen, dance to British beats from DJ Syl the Thryl, munch on pub grub from new Presidio restaurant Dixie and treat yourself to our signature cocktail—The Olympian, made with No. 3 London Dry Gin.
[Image above: A sampling of the pub grub that will be provided by Dixie!]