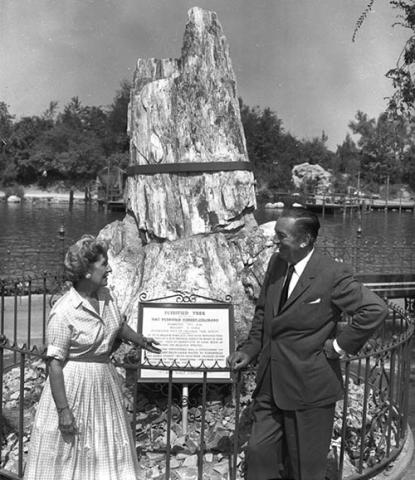 There's an old joke among Disneyland fans, disguised as a trivia question: "What is the oldest attraction in Disneyland?" Those who hadn't been asked that question before often strain to think of what the first attraction completed was, since any remaining attractions from opening day obviously debuted together. Many fans know the original dark rides—Snow White's Adventures, Peter Pan's Flight, and Mr. Toad's Wild Ride—have all been there since day one. Thus, the guess usually involves one of the three Fantasyland stalwarts. The answer/punchline is, at roughly 55 to 70 million years old, the petrified tree in Frontierland.
Legend has it Walt was driving with his wife Lillian through the mountains outside of Colorado Springs during a 1956 summer trip to the Centennial State, and after seeing a sign that read "Pike's Petrified Forest," he decided to pull in and do a little anniversary shopping. As it turns out, that legend, much like the "oldest attraction" trivia question, exists purely for comedic purposes.
Walt and Lillian did in fact stop at Pike's Petrified Forest on July 11, 1956, just two days shy of their 31st wedding anniversary. One of only two petrified forests in the country that hadn't been taken over by the Park Service, Pike's brochure offered visitors a "Fascinating, Mystifying, and Educational" experience. Walt ventured in, while Lillian decided to wait in the car. It was just about closing time, but the young boy in charge of giving the tours opted to receive Walt, not yet knowing who he was, for the sum of 35 cents. Walt enjoyed the tour. Perhaps a little too much, in fact. He was in there way longer than Lillian would have liked, and he knew it. His brother Roy later recalled, "He was gone quite a long time and when he came back he knew she would be provoked with him. It was near their anniversary, so he said, 'Honey, I bought you an anniversary present.' "
Lillian probably didn't laugh upon hearing what it was, but she took it in stride. The ten-foot high stump, weighing in at five tons, was purchased for the sum of $1,650. The stump is believed to have come from a tree that stood over 200 feet tall, right there in (prehistoric) Colorado. Millions of years ago, a cataclysmic incident had taken place, causing silica-rich water to envelope the sub-tropical forest in which the tree was located. Over time its wood cells physically changed to sandstone, creating a petrified state.
In concert with the anniversary present gag, it was later rumored that Lillian tolerated the stump at their Carolwood home for a whole year before donating it to Disneyland. It never made it to their home, and was meant to go to Disneyland all along. While an early hand-written draft of the tree's plaque did include the faux quip, "Too large for the mantle," the letter Walt drafted to John Baker, proprietor of Pike's Forest, read, "It is my understanding that you will deliver the stump direct to DISNEYLAND at Anaheim, California, within thirty days, along with approximately One Ton of small pieces of petrified stone..." It took longer than thirty days, but the stump did eventually find its way to "The Happiest Place on Earth."
To find out for sure if the "anniversary present" story was just a goof, Disney historian Todd Pierce reached out to Diane Disney Miller via email back in 2010. She replied, "Of course it was staged, and is very playful on both of their parts. The 'gift to my wife' was just a gag. He [Walt] was the consummate gag man, and proud of it. It's difficult to believe that others didn't see this episode that way."
Walt was the consummate gag man. And his better half had grown quite adept at playing along. The petrified tree was officially christened in Disneyland 60 years ago this month, the inscription on the plaque ending with, "PRESENTED TO DISNEYLAND BY MRS. WALT DISNEY - SEPTEMBER, 1957."
Well-played, Mrs. Disney.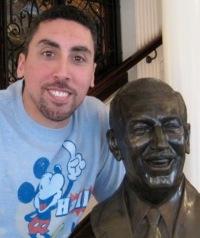 Keith Gluck is a contributing writer for The Walt Disney Family Museum and also runs thedisneyproject.com, a Disney fan site.