"Davy Crockett," "Disneyland," and the "Mickey Mouse Club" had all been overwhelming successes on the small screen. But it was sixty years ago, in the fall of 1957, when American viewers tuned in for Walt Disney's first foray into primetime, half-hour, episodic television. Could Walt produce a regular, narrative program that could compete among the nation's most popular shows?
At a time when westerns were the unrivaled force in episodic television, Walt would deliver his own take on the theme. The character had been one he was hoping to adapt for a number of years. The adventure would be that of "el Zorro", the masked avenger of Spanish California who had debuted nearly forty years earlier in Johnston McCulley's pulp fiction, and ever since had been one of cinema's best-loved swashbuckling stars. A tale full of daring action, endearing romance, and a mythological hero, Walt's new show would be dubbed a southwestern by its crew.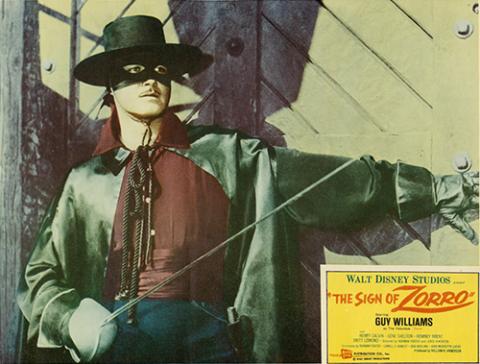 The story took viewers to the year 1820: a time when California was still a colonial province of Spain. In the small and seemingly insignificant pueblo of Los Angeles, the local population finds themselves under the oppression of a brutish army captain in search of wealth and greater power. A young caballero, Don Diego de la Vega, chooses to fight back against the abuses of his people. But rather than meet the challenge head on, he adopts the cunning of a fox. Moving only at night, he disguises himself in black clothing, including a mask to hide his identity. As Zorro, he acts only to right a wrong and protect those who cannot defend themselves, becoming a legend and an outlaw in the process.
Like most of Walt's greatest stories, Zorro unabashedly embraced a sense of fun and adventure. Walt and the creative team, led by director Norman Foster, layered suspense, mystery, romance, humor, thrills, and music into the series. Appealing to a whole range of viewers, "Zorro" became one of the most popular weekly programs in the United States, attracting millions every week, and ultimately some forty percent of the entire viewing audience.
Norman Foster had experienced similar success before, as one of the key creatives behind the "Disneyland" series' "Davy Crockett" episodes starring Fess Parker. He brought a dedicated work ethic and willingness to speak his mind that endeared him to Walt. Foster did not pull punches and would even challenge Walt's own ideas at times. Walt could respect Foster's fervent commitment to make the series as good as it could possibly be.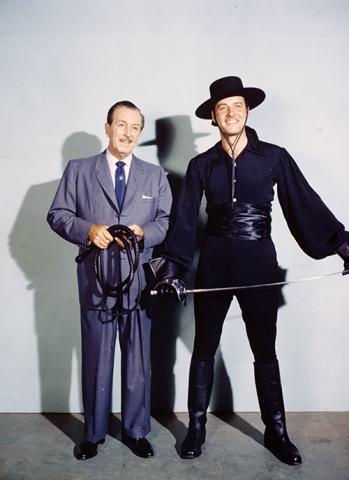 It was after Norman Foster's urging that Walt called actor Guy Williams with pleasant news in the spring of 1957. After an intensive series of screen-tests, the actor had won the role of Don Diego de le Vega and his dashing alter-ego, Zorro. It was the role of a lifetime, and Williams' charisma proved indelible to the success of the series as a whole. Like Foster, Williams put in the long hours and hard work to portray one of television's most memorable characters. Already a fencer in private life, he carried his practiced skill onto screen with grace.
Williams was joined by a cast of stalwart supporting actors. Vaudevillian Gene Sheldon played Bernardo, Don Diego's manservant and the only one who knew of his master's secret identity. A comedic character, Bernardo often interacted with the equally humorous Sergeant Garcia, played by the inimitable Henry Calvin. Calvin delivered a lovable foil as Garcia, the foolhardy solider who dreams of capturing the masked avenger, and became almost as popular a character with viewers as Zorro himself. Actor and experienced fencer Britt Lomond, who originally auditioned for the role of Zorro, portrayed Captain Monastario, the commandante who was Zorro's chief foe.
"Zorro" was crafted like an attraction at Disneyland or an animated feature, with patient care and attention to detail. Walt invested as much as $80,000 per half-hour episode at a time when most studios averaged around $13,000 for the cost of an hour-length show. The investment yielded exquisite costume design, a wonderfully genuine original score, and some of the best fencing seen onscreen in years. Guest stars including Cesar Romero, Annette Funicello, Sebastian Cabot, and Ricardo Montalban joined the regular cast throughout the series. The "Zorro" set at The Walt Disney Studios in Burbank was the first permanent construction of its kind on the lot, designed and built by many of the same artists who were simultaneously improving Disneyland. 
It came full circle when Disneyland itself would host "Zorro Days" at the Park. Guests could meet and interact with the very characters they so adored on their home television screens. Guy Williams, Gene Sheldon, and Henry Calvin were all in attendance to portray their own screen counterparts. After a bit of slapstick comedy near the Golden Horseshoe in Frontierland, Zorro himself would appear, battling with soldiers atop the Mark Twain Riverboat, and sending most of them into the river before he climbed atop his black horse and galloped away to the roar of the crowd.
In 1959, as the show's second season came to an end, "Zorro" became the victim of an unfortunate dispute between The Walt Disney Studios and the American Broadcasting Company network. Ever the innovator, Walt was revitalizing his television efforts and moving in the direction of full-color presentation. But the "Zorro" series' place in this new era was not to be. The show's cancellation came as a disappointment to viewers and cast alike—although the characters would star in four special one-hour "Zorro" episodes on Disney's anthology series in 1960 and 1961. Episodes from the series were edited into feature films that were released internationally as well as in the U.S. Although one of television's greatest heroes would have a short-lived reign, his impact was clear: his legacy continues today.
In "Zorro," there's an unrivaled balance of humor and sincerity that was indelible in Walt's storytelling. It was something that everyone could watch. At the end of many episodes, Zorro would give a wave and a beaming smile that stood white against the deep black of his mask, all before disappearing again into the night. A resounding score reached crescendo and the picture faded to black. And just as soon the story ended, a preview now proclaimed the upcoming adventure in store. All one had to do was tune in next week. Today we don't need a time machine to return to Spanish California and the adventures of "the fox so cunning and free." The Sign of Zorro currently may be streamed from Amazon, and both seasons of the series were released by Disney as part of the "Walt Disney Treasures" DVD collection.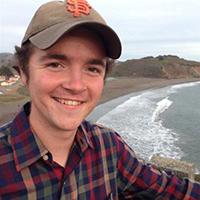 Lucas O. Seastrom is a writer, filmmaker, and contracting historian for The Walt Disney Family Museum.