New to Gallery 7 within The Walt Disney Family Museum is an enlarged display of the Museum's tiny treasures, including several pieces of Walt's unique collection, mentioned in this excerpt from Jim Korkis's book, The Vault of Walt.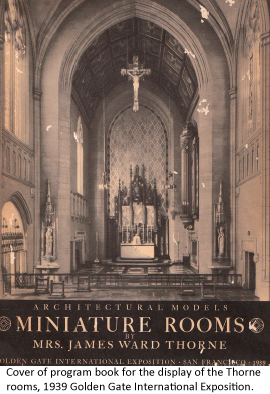 Strangely, for a man who always had big dreams, Walt Disney took some of his greatest delight in the world of miniatures. For decades, he both constructed and collected a huge variety of intricate tiny objects. Sometimes those small objects inspired some much larger ideas, including attractions at the Disney theme parks.
It is believed that Walt first seriously worked with miniatures when he helped build a Lionel train layout for his nephew, Roy E. Disney, in the early thirties, working intently on the surrounding landscaping and structures for the train track.
However, Walt's fascination with the magical power of tiny worlds was really launched in 1939, when he saw the famous Thorne exhibit at the Golden Gate International Exposition in San Francisco. Using miniature furnishings and accessories gathered by her uncle during his world travels, Mrs. James Ward Thorne had created exquisite rooms decorated to represent European and American interiors of different eras. It was said that the rooms were so perfectly crafted that viewing them was like becoming miniaturized and then entering another time. Needless to say, they captured Walt's imagination completely.
In the late forties, Walt merged his love of trains with his love of miniature making to build a small-scale railroad, the "Carolwood Pacific," that steamed around the backyard of his home on Carolwood Drive. He was especially proud of the bright yellow caboose, with its diminutive oil lamps, brass doorknobs, and actual working spring latches.
Walt painstakingly crafted a pint-sized potbellied stove for the caboose as well. "I had a pattern made up, and it turned out so cute with the grate, shaker and door, and all the little working parts, I became intrigued with the idea," Walt wrote. "I had a few made up: one was bronze, another black, and I even made a gold one! Then we made more and started painting them in motifs that fitted the period at the turn of the century."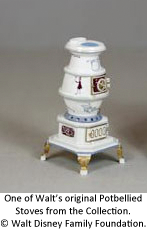 Each of these 5 1/2" inch tall stoves had a different design, and eventually about one hundred were made. Walt gave some to friends, and even sent some to an antique gift shop in New York where, to Walt's delight, Mrs. Thorne herself purchased two to add to her renowned collection, the same collection that had inspired Walt's hobby. They sold for $25 each and Walt made no special effort to market them or make a profit. He was just curious to see if there was any interest and by 1957, the supply was depleted.
"It has been fun making them and others appreciate them, too, so all in all, I feel well repaid," said Walt.
Walt began seriously collecting miniatures during his European travels, bringing home countless tiny objects of glass, wood, china, and metal. In a letter to a friend in 1951, Walt wrote: "My hobby is a life saver. When I work with these small objects, I become so absorbed that the cares of the studio fade away…at least for a time."
When Walt's collection was inventoried in the mid-sixties, the listing was more than a thousand items including paintings and books such as the Holy Bible, Tennyson's Poetical Works, A Miniature History of England and eighteen volumes of the plays of William Shakespeare. There were musical instruments such as three banjos, a mandolin, a guitar and an organ, crafted by conductor Frederick Stark. A set of dueling pistols was near a leather case inscribed "The Colt Story in Miniature," that had fourteen six-shooters. There were eleven classic cars, including a 1915 Model T Ford, 1903 Cadillac, 1904 Rambler, and a 1911 Rolls Royce. Walt also displayed a model battleship and steamboat.
However, just collecting these tiny treasures was not enough for Walt. He wanted to create an entire miniature world. In the early fifties, he asked animator Ken Anderson to draw twenty-four scenes of life in an old Western town. Walt planned to carve tiny figures and build the scenes in miniature. When he had made enough, he would send them out as a traveling exhibit.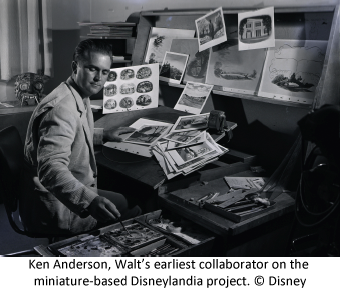 Walt told Anderson: "I'm tired of having everybody else around here do the drawing and the painting. I'm going to do something creative myself. I'm going to put you on my personal payroll, and I want you to draw twenty-four scenes of life in an old Western town. Then I'll carve the figures and make the scenes in miniature. When we get enough of them made, we'll send them out as a traveling exhibit. We'll get an office here at the studio and you and I will be the only ones who'll have keys."
Walt immediately put advertisements in newspapers and hobby magazines seeking vintage miniatures of all kinds for his tableaus. Fearing prices would soar, Walt asked his two secretaries at the time, Kathryn Gordon and Dolores Voght Scott, to use their names in the advertisements rather than announcing that Disney was looking for these items.
Several newspapers and hobby magazines carried the ad: "WANTED: Anything in miniatures to a scale of 1 ½" to the foot or under. Up to and including early 1900's. Give full description and price. Private collector. K. Gordon (and her address)."
Besides pixie-sized furniture, Walt collected miniscule tableware including delicate Limoges and Haviland tea services, small Toby Jugs, sky-blue Wedgwood pitchers as well as washing bowls of Willow Ware, Bennington crocks, and jars. Sparkling wine and perfume bottles, drinking glasses smaller than thimbles, several sets of silverware fit for fairy queens, silver tea services, and a candelabra as delicate as a cobweb completed the collection.

Walt spent countless hours carefully constructing the first of his tiny tableaus. The first scene, entitled "Granny Kincaid's Cabin" was based on a set from his live-action feature, So Dear to My Heart (1949).
The cabin was exhibited at the Festival of California Living at the Pan Pacific Auditorium in Los Angeles from November 28 to December 7, 1952. A press release announced that it represented the beginning of Walt's new miniature Americana exhibit, entitled "Disneylandia."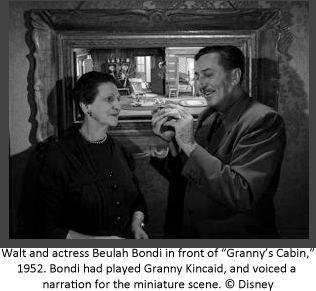 "This little cabin is part of a project I am working on, and it was exhibited as a test to obtain the public's reaction to my plans for a complete village," Walt explained in a 1953 interview. With the public's positive reaction as encouragement, Walt once again returned to his workbench and the miniscule hammers, screwdrivers, clamps and magnifying glasses that were part of a miniature-maker's craft.
Gradually two more small tableaus took shape. One was a music hall stage complete with a one-eighth scale, three-dimensional, tap-dancing vaudevillian, called "Project Little Man."
In June 1951, Walt and his team of designers and technicians began work on a third miniature display—a traditional barbershop quartet crooning "Sweet Adeline." The scene would include a barber, customer in a chair and two more patrons waiting. Again, live actors were filmed for reference. "We got as far as building the guy in the chair and the barber," Imagineer Roger Broggie recalled. "Then the whole job was stopped!"
Walt became convinced that only a limited audience would be able to view these tableaus and they would be unable to generate the necessary income to pay for their continued maintenance. Disneylandia grew to become Disneyland. As Broggie recalled, Walt said, "We're going to do this thing for real!"
In 1953, the sales pitch for Disneyland that Roy O. Disney took to New York to raise money for the building of the theme park included a description of this never-built land that would have been located between Tomorrowland and Fantasyland:
"Lilliputian Land. A land of Little Things…a miniature Americana village inhabited by mechanical people nine inches high who sing and dance and talk to you as you peek through the windows of their tiny shops and homes. In Lilliputian Land, there is an Erie Canal barge that takes you through the famous canals of the world, where you visit the scenic wonders of the world in miniature.
"Here a little diamond-stack locomotive engine seventeen inches high steams into the tiny railroad station. You sit on top of the Pullman coaches like Gulliver, and the little nine inch engineer pulls back the throttle taking you on the biggest little ride in the land. And for the little people who have little appetites—you can get miniature ice cream cones, or the world's smallest hot-dog on a tiny bun."
While Lilliputian Land, like many of Walt's other original ideas for Disneyland, was never developed, Disneyland did showcase a small sized Storybook Land in Fantasyland. Each structure was built with the same meticulous attention to detail that Walt lavished on his own miniatures.
Imagineer Ken Anderson, who designed Storybook Land, said he quickly discovered that it was "one of Walt's favorite rides. He'd make frequent visits to the model shop at the Burbank studio to provide comments and his expertise on the miniature models." Eventually, shelves were built on two walls and enclosed by glass doors in Walt's office suite at the Disney Studio to showcase his amazing miniature collection. For Walt, good things did indeed sometimes come in small packages.
© Jim Korkis, all rights reserved. Published with permission.
JIM KORKIS is an internationally-respected Disney Historian who has written hundreds of article and done hundreds of presentations on all things Disney for more than thirty years. He is the author of the acclaimed new book, The Vault of Walt. His extensive expertise and knowledge, particularly in previously-unexplored areas of Disney history, has been utilized by many other researchers as well as The Walt Disney Company itself. Jim will be hosting a special presentation at The Walt Disney Family Museum on July 23, 2011.
THE VAULT OF WALT is a highly-praised recently-published book featuring more than 450 pages of previously untold stories about Walt Disney himself, the Disney theme parks, the Disney films as well as many out-of-the-ordinary and forgotten stories of Disney history. The Vault of Waltis both a valuable supplement to any Disney fan's personal library and an entertaining introduction to the many worlds of Walt. It features a foreword by Diane Disney Miller, who praises the writing as "honest, and well written…so authentic, so true to my dad's spirit, so unprejudiced and non-judgmental that as I read it I could see the twinkle in dad's eye, hear his laugh."