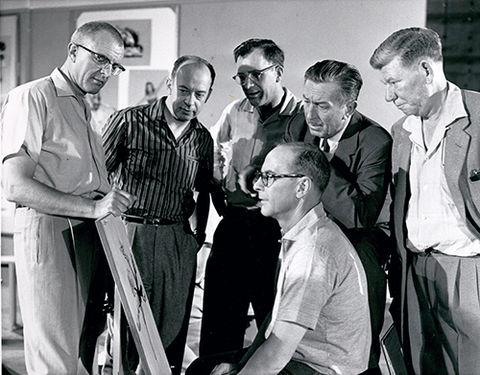 Walt Disney's famed Nine Old Men were among the creative geniuses behind our most beloved Disney animated films. These talented artists were considered by Walt to be his most trusted and gifted collaborators, and he held each of them in the highest esteem. By the time the Nine Old Men (then ironically quite young) found their way to The Walt Disney Studios, Walt had long left his own animation days behind, but always retained a keen eye for exceptional talent, and recognized this in each of the nine.  Individually, they were men of varying talents and vastly different personalities, each bringing their own unique and valued skillset to enhance Walt's unparalleled storytelling. Together, the nine worked as a cohesive unit, turning out classic and beautifully animated characters that will continue to be remembered and revered for years to come. Arguably, one of the most legendary (and possibly the most infamous) of the nine was the master draftsman, Milt Kahl. With the exciting presentation of The Walt Disney Family Museum's special exhibition of Wish Upon a Star: The Art of Pinocchio, we turn our attention to Kahl, the sometimes irascible yet always supremely talented artist behind the design of the lovable little puppet.
Milt Kahl, a native San Franciscan, was born on March 22, 1909 to a very poor family. He dropped out of high school at age 16 so he could get a job and help support his struggling family after his father abandoned them. He managed to secure a job at the Oakland Post Enquirer in the art department, where he met and befriended a fellow artist named Ham Luske. Luske would later come to be known as one of "Four Young Men" at The Walt Disney Studios who trained and inspired "The Nine Old Men," including Kahl himself.  Kahl moved on to work at the San Francisco Bulletin a few years later. Unfortunately, the Depression hit, and Kahl was laid off. He struggled with finding illustration work until 1934, when his old friend Ham Luske, now a successful Disney animator, recommended that he move to Los Angeles to work with him at Disney's. He took the offer, and the rest, as they say, is history.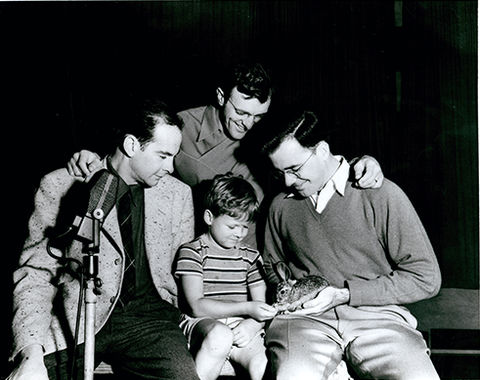 With his talents Kahl quickly caught the attention of his fellow artists, despite being a young and relatively untried artist. He gained recognition for his work on shorts such as Ferdinand the Bull (1938) and Silly Symphonies, including  the color remake of The Ugly Duckling (1939). He even contributed a line of dialogue to the pacifist bull Ferdinand, which was ironic considering his volatile personality. He got his big break when he was asked to be a junior animator on Disney's first film, Snow White and the Seven Dwarfs, where he was tasked with animating the many forest animals. He later became a supervising animator on the film Bambi, where he refined the designs for the deer and Thumper, originally drafted by Marc Davis. He also quickly became infamous for his short fuse and explosive temper, as well as his obsession with perfectionism for himself and his fellow animators. Despite his outbursts, he was already becoming a well-respected member of the Disney team, and quickly advanced within the Studios' ranks. Walt once spoke about Kahl's temper saying, "The way to handle Milt is to let him cool off for a couple of days and then talk to him."
In 1937, as he readied the release of Snow White and the Seven Dwarfs, Walt Disney had his story team begin development on what would become his second feature animated film, Pinocchio. Based on the novel written by Carlo Lorenzini under the pen name Collodi, the puppet of the book was a brash, over-confident, obnoxious character who was always purposely causing mischief. When Walt first began working on his film version, he kept the character as Collodi created him, hoping that the character's brashness would come off as appealing. The early designs for the character (particularly as seen in the earliest sketches by Albert Hurter) reflected this personality. 
However, in June of 1938, Walt made the difficult but ultimately wise decision to completely overhaul the film. There were many issues with the original film story that influenced this decision, but one of the biggest was that Pinocchio's character simply wasn't likeable. As Walt famously said, "People know the story, but they don't like the character." After six months of work, Walt scrapped the entire project, including all original designs for the namesake character Pinocchio. The Story Department focused on reinventing Pinocchio's personality, and needed a design to match.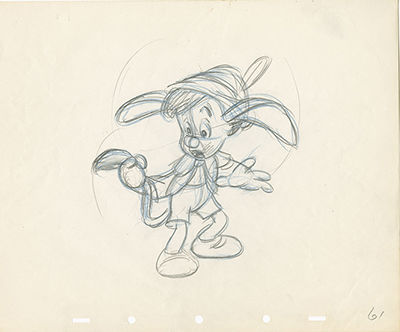 Early on, Pinocchio had been drawn as a wooden boy, with clunky joints and movement. This coincided with his harsh personality, but after the 1938 overhaul, that design simply didn't work anymore. Pinocchio had been redeveloped into a more sympathetic, innocent character, whose naivety was what ultimately led him into various perilous scenarios, as opposed to his former mischievous nature. Animator Freddy Moore had long been recognized as a master of "cute" characters, but even he could not figure out how to overcome the challenge of turning a stiff, wooden figure into an appealing figure ..
While Kahl had made a name for himself within a very short time at Disney's, still, he was young and new, and not quite within the ranks of the animators tasked with designing the film's title character. He was outspoken about his dismay at the focus on the character as a wooden puppet. With Ham Luske's encouragement, he tackled the challenge of Pinocchio's re-design. He approached it very differently from his seniors, and completely discarded the idea that Pinocchio was a wooden boy. Instead, he just drew him as a real, appealing little boy, and added his wooden joints and toy-like appearances afterward. He did test animation with his new design, and Walt was thrilled. This was the change that the character needed to match his physical appeal to his new and improved guileless personality. This alteration was considered a huge turning point in Disney animation history and in the production of the film, and cemented Kahl as an animation guru for the rest of his life (and longer)! It also was the boost he needed to be noticed by Walt himself, and from Pinocchio onward he was considered by Walt to be in the top tier of his team of animation superstars. Walt was known to peek his head into Milt's office and ask "Where's the genius?" Kahl was one of the few who had the courage to openly disagree with Walt on some of his ideas, so confident was he in his knowledge that he was indispensable to the Studios. And he was right.
Milt Kahl would serve as a directing animator on Pinocchio, along with other well-known Disney artists including Frank Thomas, Fred Moore, Ward Kimball, and Vladimir Tytla. Kahl's approach to Pinocchio helped to save a floundering character badly in need of redesign and would result in one of the most memorable Disney characters. Kahl was a key animator at The Walt Disney Studios for the next forty years, and throughout his time there was revered by all the artists that passed through the Studios' doors. He mentored some of today's top artists and directors, including Disney animator Andreas Deja, famous for animating characters like Scar and Jafar, and The Incredibles and Tomorrowlanddirector Brad Bird. Despite often being notoriously difficult to please, he won a huge amount of respect from his fellow Nine Old Men, and his drawings were once compared to Michelangelo's by Ollie Johnston. He felt unchallenged when given "straight" characters like Peter Pan and Alice, but relished in over-the-top characters such as Madam Mim in The Sword in the Stone and Medusa in his last animated film, The Rescuers. He retired from The Walt Disney Studios in 1976, returning to Northern California while agreeing to provide character designs for a film that eventually would be released almost ten years later: The Black Cauldron. His legacy continues to live on today thanks to his flawless design and animation of some of the most beloved Disney characters of all time, and in the work of the many animators today who learned from his relentless pursuit of perfection in his art.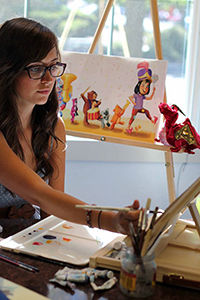 Tracie Timmer is an Education Associate at The Walt Disney Family Museum.
Sources
Canemaker, John. Walt Disney's Nine Old Men and the Art of Animation. New York: Disney Editions, 2001. Print.
Deja, Andreas. The Nine Old Men: Lessons, Techniques, and Inspiration from Disney's Great Animators.
Kaufman, J. B. Pinocchio: The Making of the Disney Epic. San Francisco: Walt Disney Family Foundation, 2015. Print.