Joshua Meador (1911-1965) had two careers: he is best known for his special animation effects work at The Walt Disney Studios for nearly 30 years and, away from Disney, he established himself as a major California landscape painter.
In the midst of the Great Depression, Josh graduated cum laude from the Art Institute of Chicago in 1935. One of his fellow students at the Art Institute was Disney Legend, Herb Ryman. On the dare of a friend, Josh submitted his portfolio to "that animator in California." He and his young wife Libby packed up and headed west. When Josh arrived at The Walt Disney Studios in 1936, Walt liked what he saw in Josh and hired him on the spot. His first key (though uncredited) assignment was as an animator on The Old Mill, after which he moved on to Walt's greatest challenge to date, Snow White and the Seven Dwarfs.
Josh proved to be an imaginative filmmaker, helping raise animation from cartoons to high art. Josh contributed to Pinocchio (1940), and in the 1958 "Disneyland" television episode "Tricks of Our Trade," he recreated his role as animation supervisor for the "Rite of Spring" segment of Fantasia (1940), developing the technique of using bubbling mud to simulate the lava. He animated on most Disney features and numerous shorts of the 1940s and 1950s, including Dumbo (1941), Bambi (1942), Saludos Amigos (1943), and created animation effects for Song of the South (1946).
Josh's son Philip explained his father's two careers, saying, "In the early days at the Studios, Josh gave it all his energies, but when there was a long weekend or a hiatus, Josh, Libby and I would load the wood-paneled station wagon and teardrop trailer, and off we would go to the Northern California Coast or the Eastern Sierra or the Desert Southwest. Once there, Josh would paint all the time while Libby and I busied ourselves on long walks and such."
As Josh was coming up to his twentieth anniversary with The Walt Disney Studios, he wanted to dedicate more of his energies to his fine art painting. Walt prized Josh's services, and did not want to lose him. In 1955, Walt called Josh into his office and negotiated a compromise. Josh would be free to paint full-time, but when Walt needed him, Josh would remain under contract on an "on-call' basis. Both men grew to like the arrangement. Under it, Josh did some of his most memorable work.
Throughout the 1950s, Josh worked on 20,000 Leagues Under the Sea (1954), Sleeping Beauty (1959), and The Absent-Minded Professor (1961) and Son of Flubber (1963) with Fred MacMurray, who collected a number of Meador's paintings. Josh did the animation effects for Darby O'Gill and the Little People (1959), and was one of the sequence directors for Donald in Mathmagic Land (1959). He also worked on "Walt Disney's Wonderful World of Color" and assisted with plans for Disneyland. At one point in the mid-1950s, Walt loaned Josh's animation services to MGM for whom Josh created the famous "Monster of the Id" for that studio's 1950's legendary sci-fi classic, Forbidden Planet (1956).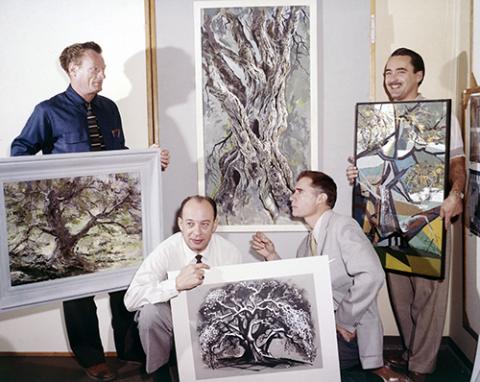 In 1958, Josh was one of the four artists featured in the "Disneyland" television episode, "An Adventure in Art." Walt himself introduced them: "Here at the studio we have many artists who achieved national reputation as painters in addition to their accomplishments in the field of animation." The show featured Marc Davis, Eyvind Earle, Walt Peregoy, and Joshua Meador discussing their individual contributions to the animation of Sleeping Beauty, and then explaining their thought process as they demonstrate their personal approach to painting the same tree, which Walt described as "a fine old live oak."
With Josh's "on-call" contract in effect, Josh and Libby moved to Carmel Highlands in 1955 and later near Mendocino in 1960. His paintings were featured in major galleries in Portland, San Francisco, and Los Angeles. He participated in juried art shows and had many one-man exhibitions. He received favorable reviews by art critics, including Arthur Millier of the Los Angeles Times and Alfred Frankenstein of the San Francisco Chronicle. In 1958, he was guest speaker for the prestigious California Art Club, and often gave art talks and painting demonstrations.
Recently, my wife Linda and I traveled to Disneyland to meet with Joe Cosgrove, Meador's good friend from the early 1960s. Today, Joe is in his 80s, an active member of Disneyland's Club 33 and a true enthusiast. Joe met us at the park's gate and ushered us onto Walt's private railroad car, the "Lilly Belle." As we rolled around the park, Joe told us story after story of Josh's career.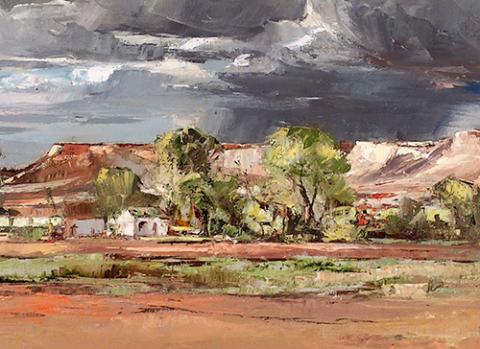 New to us was Joe's story of Josh's uncredited participation in Mary Poppins. With great energy, Joe related, "Walt called Josh to the studio to assist with the Dick Van Dyke dance scene with the penguin waiters." He explained, "Walt needed to have live actors interacting with animated figures. Josh told me that the studio put up a blank screen, what they call a 'sync screen" and an empty stage with marks. Josh had to be there for the shoot, making certain Dick Van Dyke and Julie Andrews hit their marks, because the animation was already in the can."
Joe said that Josh's official credits at the Studio are legendary, but lamented that Josh did many things which remain uncredited. He added, "Josh didn't mind; he was part of a creative team. He loved working with them." He then added, "When Walt needed him, Josh was there." Walt appreciated Meador's personal art, and purchased paintings to hang in his homes. One of these paintings is currently being exhibited in the lobby of The Walt Disney Family Museum. Josh Meador worked for Walt from 1936 until his passing in 1965.
Daniel Rohlfing, Bodega Bay Heritage Gallery
Dan Rohlfing and Linda Sorensen own Bodega Bay Heritage Gallery, a locale frequented by Joshua Meador during the early 1950s.