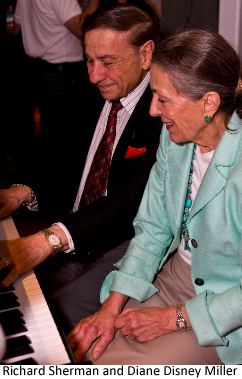 What makes Mary Poppins Supercalifragilisticexpialidocious? 
I was literally born at the epicenter of Mary Poppins's cinematic inception, and I believe I know why the world's favorite nanny can magically transcend from generation to generation. My father, Richard M. Sherman, and uncle, Robert B. Sherman, wrote the Oscar®-winning score to Disney's masterpiece. To me, Mary Poppins was Walt's "practically perfect" storm. Like a sumptuous soufflé, every ingredient of his Studio's spectacular genius – from animation to special effects to storytelling to music – was meticulously poured, mixed, and baked until it rose to delicious, motion picture perfection.  But few are aware that the movie almost never happened.
Walt Disney's love affair with author P.L. Travers's stories began in the 1930s.  My cousin, Jeff Sherman (Bob's son) and I recently completed a documentary on our dads' legacy, The Boys: The Sherman Brothers' Story. We were privileged to interview Roy E. Disney, who discussed the making of Mary Poppins.  "Walt knew that book and made a trip to England before World War II to speak to Mrs. Travers. She wasn't interested." Roy flashed a sly smile, "I think my uncle started making the movie without her permission."
In 1960, the Sherman Brothers were busily writing pop songs for teen sensation, Annette Funicello, when Walt handed "the boys" (how Walt affectionately referred to our dads) a copy of Mary Poppins, saying simply, "Tell me what you think."  For two weeks, Bob and Dick Sherman immersed themselves in Mrs. Travers's colorful characters, realizing her collection of delightful short stories had no beginning, middle, or end.  Along with writing several song sketches, Bob and Dick crafted their own story, moving the setting from what my dad called, "drab, depressing 1930s England," back in time to turn-of-the-century, music hall London.  On a fateful September morning, the boys spent hours in Walt's office demonstrating the songs and walking Walt through their original storyline.  When they were through, Walt said, "Play me that bird lady song again."  As my dad sang what would later become, "Feed the Birds," Walt looked out his north window, saying softly, "That's what it's all about…" That same day, as they left his office, Walt handed our dads a contract to become the first—and only—staff songwriters in the history of Walt Disney Studios.
For the next three years, our dads wrote songs for Walt's films, TV shows, and theme park rides, but in between their vast array of exciting assignments, they were continually writing songs for what they'd hoped would be their magnum opus.  Then, in 1962, Walt told our dads that they, along with screenwriters Don DaGradi and Bill Walsh, would be spending the next week dazzling the visiting Pamela Travers, to persuade her to sell Disney the rights to her property.  For years, everyone at the Studio had been tirelessly working on a massive project Walt didn't own!  After the first exhausting day of battle with Mrs. Travers, Walt informed his team he'd be out of town the rest of the week. "I don't think I've ever heard the word 'no' said more often or more ferociously.  She hated everything!" my dad agonized recently after I prodded him to relive the experience. Ultimately, Walt's handpicked creatives finally eroded the irascible author's iron-willed objections, and within a few months of her begrudging approval, principal production of Mary Poppins began. 
All told, our dads wrote three-dozen songs for Mary Poppins, but only fourteen were used in the film.  One of their favorites was to be Mary Poppins's signature song, "The Eyes of Love."  Don't worry if you've never heard it—the song was cut.  After Walt saw Julie Andrews on Broadway, he offered the theater star her first movie role.  When our dads first played Julie the score, she loved all the songs except that ballad. She felt it didn't have enough snap.  My Uncle Bob, crestfallen, left the office right after Julie rejected their tune.  That afternoon, my cousin Jeff, who was five, was alarmed to see his dad's shadowy figure sulking in their dark den.  Jeff wondered why dad was home so early.  Bob hoped Jeff's day was better than his.  Jeff told Bob he'd gotten the Salk vaccine. "You let someone give you a shot?" Bob worried.  Jeff assured him, "No, the nurse gave me a plastic spoon and put the medicine on a lump of sugar, and I just ate it…" With that spark, Mary Poppins' signature song, "A Spoonful of Sugar" was born. In fact, the lyric "snap, the job's a game" was the boys' nod to their star that, indeed, the song had snap.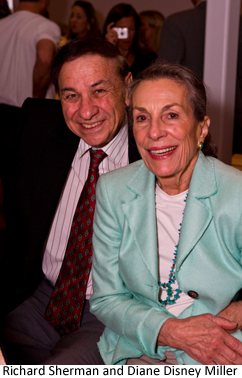 As the casting process continued, Walt and the boys were having lunch in the Studio commissary with actress, Glynis Johns, venerable star of stage and screen.  Midway through the meal, Glynis was suddenly confused and a tad hurt, as she believed she was up for the lead role.  Walt, always thinking on his feet, assured Glynis that she'd be ideal as Mrs. Banks.  "And just wait 'til you hear the big number the boys wrote for you," Walt boasted. There was no number.  The boys quickly excused themselves and scrambled back to their office to create a cause for Mrs. Banks's character, researching women's movements in 1900s England. They fashioned new lyrics onto a tune they were writing called, "Practically Perfect."  The result: Glynis Johns was cast as Mrs. Banks, singing "Sister Suffragette."  
Each song in Mary Poppins has a definitive purpose to drive story and enhance character, but so often their inspiration makes the music indelible because the song's derivation actually parallels the heart of the film.  My favorite example involves my grandfather, Al Sherman, a Tin Pan Alley songwriter who, in 1950, literally dared his talented boys to follow in his footsteps.  As a hobby, Grandpa Al was also a brilliant kite maker.  When I was little, he used to come to our house and build these amazing kites from scratch, which we'd fly high above Benedict Canyon in Los Angeles.  For the ending of the film, our dads pitched Walt the idea of kite flying as a metaphor that demonstrates the elation of a unified family.  It's those immensely personal touches our dads provided, along with everyone who worked on the film, which help give Mary Poppins its enduring quality.  
When admiring a great work of art, if you take a step in any direction, you get a fresh perspective.  I've watched Mary Poppins as a child, as a young man, as a father, and, most recently, as a father of two young men (my very own Sherman Brothers).  Every viewing provides a unique opportunity to absorb the ever-enhancing messages of family love and charity, each intricately woven into the fabric of the film. Yes, our favorite magical nanny does fly away at the end, but thanks to Walt Disney's extraordinary imagination and the mastery of his team of visionaries, Mary Poppins will never leave.