In the mid-1930s, before Walt Disney even understood the new medium of television, he still had the foresight to invest in it. Walt had learned from dealing with such shady characters as Charles Mintz and Pat Powers to pay close attention to contracts. When his distribution deal with United Artists was coming to a close, he chose not to renew. UA was insisting on the television rights to all Disney cartoons. "I don't know what television is, and I'm not going to sign away anything I don't know about," Walt said. He ended up signing with RKO (Radio-Keith-Orpheum) Pictures in late 1935.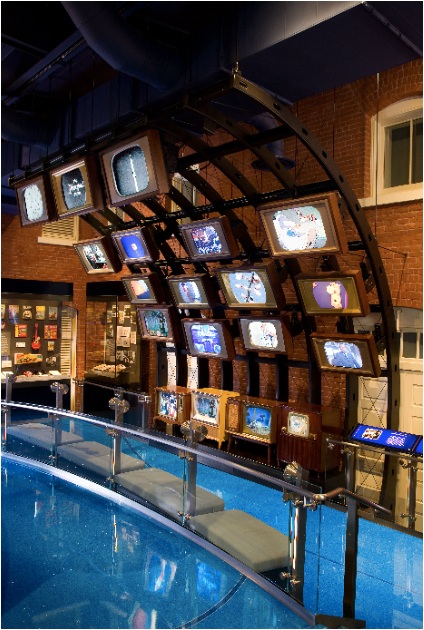 Over a decade later, Walt's interest in television began to develop. In 1948 he spent a week in New York with the specific purpose of watching and learning more about television. By the time he returned to the Studio, he was convinced it was just the forum to help promote his work. He even told Studio Nurse Hazel George, "Television is the coming thing." While other movie studios were trying to think of ways to thwart the coming of television, Walt was gearing up to embrace it.
Despite Walt's enthusiasm, there was an ongoing debate at the Studio over whether or not venturing into television was a good idea. In 1950, Walt sought the advice of an impartial third party. He hired research firm C.J. LaRoche, and tasked them with investigating television's financial feasibility. The result was a report titled "Television for Walt Disney Productions," which was delivered to the Studio in September. In the report, LaRoche suggested a trial run as opposed to starting off with a series. Walt took their advice, and in November of 1950, publicly announced that the Studio would be entering the world of broadcasting.
Walt knew he would need to find someone to head up this new project. Since television production was something completely new for the Studio, no one there was specifically qualified to be a television producer. Famous for spotting talent in people that they themselves didn't even know they had, Walt selected press agent Bill Walsh. "I kept bumping into him in the hall which is not a bad place—or in the parking lot," Walsh recalled. "So Walt in his strange way said, 'You, you be the producer of TV.' And as always I said, 'Huh? But I don't have any experiences of a producer,' and Walt would always say, 'Who does?' "
On Christmas Day, 1950, Walt Disney Productions aired its first ever television special. One Hour in Wonderland was a charming concoction of cartoon clips (including the yet-to-be-released Alice in Wonderland), appearances from stars of the day, and Walt Disney himself. In one scene when Walt was hamming it up with a magic mirror, ventriloquist dummy Charlie McCarthy (voiced/performed by Edgar Bergen) turned to two young girls and asked, "How hammy can you get? Do you girls know this character, Disney?" The first girl, Diane, responded, "Yes." The second girl, Sharon, said, "He's our father." A contrite McCarthy could only muster, "Eh… oh."
One Hour in Wonderland  was a huge success, and Walt followed it with another special the following Christmas, The Walt Disney Christmas Show. While Walt had proven he could succeed in television, a series wouldn't be imminent. A few factors contributed to this decision, perhaps the biggest one being Walt's preoccupation with a new project called Disneyland.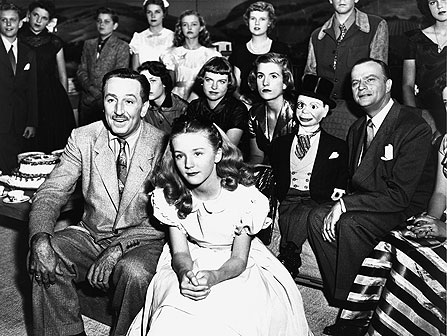 As fate would have it, the avenue that he appeared to forget about ended up being one of his saviors. With the estimated cost of Disneyland exceeding what Walt was able to raise on his own, he realized that a weekly television series would bring in much-needed revenue. He also remembered its potential for promotion. "Every time I'd get to thinking of television I would think of this Park. And I knew that if I did anything like the Park that I would have some kind of medium like television to let people know about it," Walt said. In September of 1953, the Studio created outlines for four different shows: The Walt Disney Show, Mickey Mouse Club TV Show, The True Life TV Show, and The World of Tomorrow.
After several months of negotiations with all three major networks (ABC, CBS, NBC), Disney struck a deal with ABC to bring the simply titled Disneyland series to television sets across America. The first episode, The Disneyland Story, premiered on October 27, 1954. Over the years, the show has undergone several title changes (Walt Disney's Wonderful World of Color, Disney's Wonderful World, The Disney Sunday Movie, The Magical World of Disney—just to name a few), and has aired on all three major networks. The anthology series—known for bringing beloved characters like Zorro and Davy Crockett to the screen, as well as the groundbreaking Man in Space—is the second longest running prime-time program in the history of American television, second only to Hallmark Hall of Fame (although it's worth noting that Hallmark Hall of Fame was only a weekly program for a few seasons, while Disney's remained weekly for over forty years).
Walt Disney's courage and vision are just two of the things that set him apart as a pioneer in the field of entertainment. By embracing television while his peers rejected it, he not only saw the realization of one of his biggest dreams, but he also set the foundation for what would become decades of quality family broadcasting.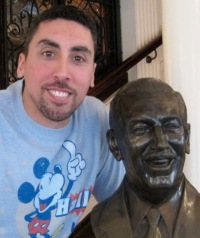 Keith Gluck is a WDFM volunteer, writer/editor for thedisneyproject.com, a Disney fan site. His Disney life started early, visiting Disneyland before turning one, and writing his very first book report on a Walt Disney biography for kids.