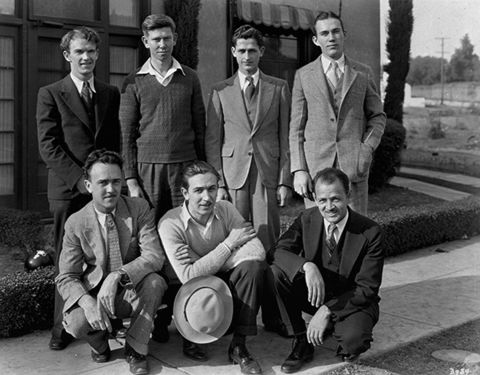 In the fledgling days of The Walt Disney Studios, the unprecedented growth of the little cartoon company that could would not have been possible without the innovative mind of its dauntless leader, and the loyalty and determination of a select few of his workers. Few were more dedicated or more hard-working than a young apprentice animator named Les Clark. A high school student with almost no art experience, Les stumbled upon Walt and his brother Roy by happenstance while serving them ice cream at a confectionary across the street from the brand-new Disney Brothers Cartoon Studios. Little did either man know that Les would later go on to become one of Walt's most prized animators, an iconic member of "The Nine Old Men."
Les Clark was born in 1907. The eldest of twelve, at a young age he was tasked with helping support his large family after his carpenter father sustained a back injury. This he happily did, with an uncomplaining nature that he would retain throughout his whole life. It was this devotedness to his work and determination to succeed that would later cement him in the Disney elite. While Les was working at the confectionary in 1925, a young Walt Disney complimented him on his lettering of the menus. It wasn't for another two years, shortly before he was about to graduate high school, that Les would get up the nerve to ask Walt for a job. Walt liked a few of his drawings and offered him a "temporary" position that would go on to last almost half a century. Les reported for duty the Monday after his graduation, and did not leave the Studios until he retired in 1976.
Les Clark started at the Studios in some of the lowest positions available, first as a camera operator and then as an ink and painter. He began tutelage under the guidance of one of Walt's oldest friend and most prized animator, Ub Iwerks, who became something of a mentor for young Clark. In 1928, when nearly all of Walt's animation staff defected to go work for Walt's former Oswald distributor, Charles Mintz, Iwerks, and Clark were some of the few to loyally stay behind. They all had faith in a determined little mouse named Mickey. While Walt and Ub furiously worked on their new cartoon, Les graduated to the position of inbetweener, where he worked on a scene from Steamboat Willie. This very scene is fabulously displayed in Gallery 2B at the museum, giving guests the opportunity to view this beautiful piece of historic animation frame-by-frame.  Before long, Les was promoted to animator, and was given a scene in the iconic Silly Symphony, The Skelton Dance, where one skeleton plays the other's rib cage like a xylophone. Ub Iwerks eventually left Disney's to start his own studio, and Les replaced his mentor as lead animator on Mickey Mouse. With the many advancements in animation that the fledgling Studios were discovering, Les' animation skill with Mickey flourished until his talent actually had surpassed that of his mentor, and he became known as the Studios' resident Mickey expert.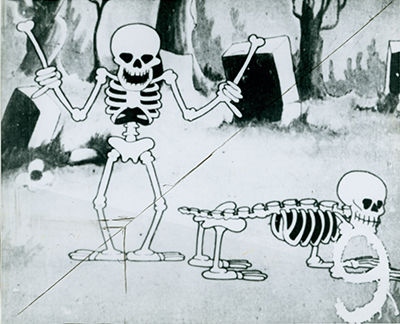 Aside from his stalwart dependability, Les was known for creating rhythmic animation that timed well with musical sequences, and also had a knack for emotional acting. He always aimed to please, a personality trait that Walt needed among some of his more outspoken animators.  As Les put it, "In order to become an animator of any stature, it took some time. In that time you learned to get along (with Walt) or not…" In an unceasing effort to improve his craft, Les attended art school the entire time he worked at the Studios, holding fast to the belief that an artist never stops learning. His workmanship improved, and he was soon tasked with the important and difficult job of animating the seven dwarfs in Walt's first full-length animated film, Snow White and the Seven Dwarfs. He was given the challenging scene of animating the dwarfs dancing with Snow White. While the princess was animated based on reference from live action footage, Les had to draw the dwarfs entirely from imagination. With the many different camera angles, perspectives, and silly dance moves, this was no mean feat, but Les as usual dedicated himself to the task with great success. His assistant, Ken Peterson, once described Les' undaunted determination: "He had the quality of pleasing Walt that (Wilfred Jackson) had. That was the only thing that mattered to Les. He would do a thing over and over again. (I) always respected Les because he would get you quality. He would get you all the quality that was within him to get you."
After working on Snow White, Les would go on to animate many of the most beloved Disney characters, including Pinocchio, Cinderella, Alice, and Tinker Bell. He would later go on to become a trusted director, first as a sequence director on Sleeping Beauty, and then as a director on informational shorts such as Donald in Mathmagic Land.  However, due to his quiet, uncomplaining personality amongst the bigger personas of the other "Old Men," he was often taken for granted and given some of the lesser characters or scenes. This in no way diminished his talent or enthusiasm for animation, and he retained his steadfast devotion to constant learning and improvement for the rest of his long career. He was known, even towards the end of his career in the '70s, for going straight from the Studios to attend a night time painting class after a long day of animating. He was the only one of the Nine who was with Walt from his very earliest (and toughest) days, and was an indispensable part of The Walt Disney Studios. His legacy should not be forgotten.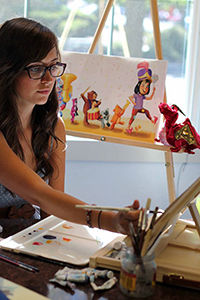 Tracie Timmer
Education Coordinator at The Walt Disney Family Museum
Sources
Deja, Andreas. The Nine Old Men: Lessons, Techniques, and Inspiration from Disney's Great Animators. Florida. CRC Press, 2016. Print.
Canemaker, John. Walt Disney's Nine Old Men and the Art of Animation. New York: Disney Editions, 2001. Print.
https://d23.com/walt-disney-legend/les-clark/