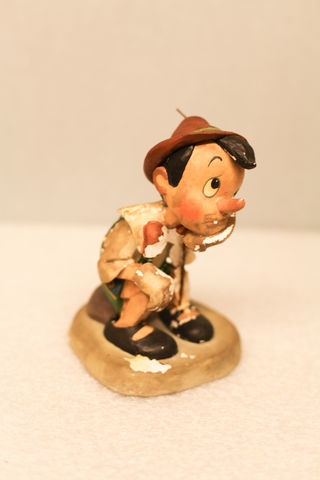 This Pinocchio character model sculpture, commonly referred to as a maquette, was created by The Walt Disney Studios Character Model Department during the production of Pinocchio (1940). The Character Model Department, led by Disney Legend Joe Grant, was established at Walt's suggestion in October 1937 and played an integral role in developing new stories and characters. Designers and illustrators visualized their ideas through the use of drawing and painting materials, while sculptors created maquettes in plasticine, plaster, and clay. These three-dimensional models were used during the development of animated films to help animators visualize characters in different poses from any angle.
The Walt Disney Family Museum is fortunate to have character models from numerous productions. Older maquettes in our collection date from the mid 1930s–early 1940s and are made of painted plaster with internal wire supports. Over time—due to age, use, and environmental exposure—the plaster and painted surfaces discolor, crack, and destabilize, which can lead to losses in both the painted surfaces and the plaster substrates. An example of common deterioration and damage can be seen in the case of this particular Pinocchio maquette where a large section of plaster was missing from the left side, leaving the iron wire support completely exposed. The iron wire rusted, leading to stains on the plaster. There was considerable paint loss overall and in many areas the remaining paint was unstable and easily came away from the surface.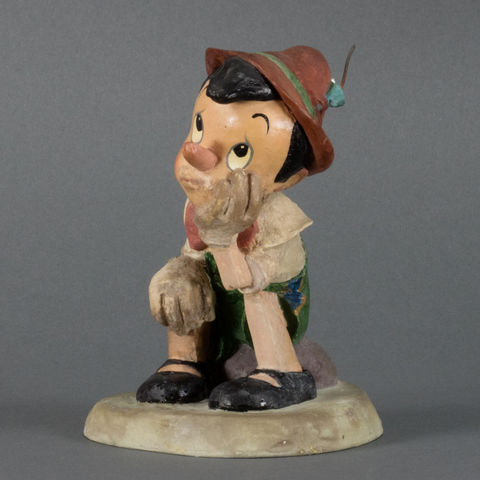 Tonja Morris, Senior Conservator of 3D Objects for The Walt Disney Family Museum, began the conservation treatment by testing and developing a safe method for stabilizing the remaining painted surfaces with an appropriate and archival adhesive system. The corrosion on the exposed iron wire was mechanically reduced with a micro scalpel under magnification using a stereomicroscope. The exposed wire was then coated with a barrier adhesive to prevent and slow down further corrosion. The areas of loss to the plaster were then filled with an acrylic spackle and shaped to replace the missing left arm and left leg. The final step in the treatment was integrating the filled areas and areas of loss to the painted surface by inpainting with Gamblin Conservation Colors. Gamblin Conservation Colors are made up of a low molecular weight resin and were chosen for use in this treatment because they retain their solubility in mild solvents that are safe for the conservator to work with and safe for the original media on the object. They remain easily reversible over time, are stable upon aging, and have excellent optical and working properties that allow conservators ease in addressing different painted styles and techniques from thin washes of color to thicker applications of paint often encountered in the conservation of painted surfaces.
After treatment, the object is stable enough for exhibition and storage and can continue to serve as a testament to the talents of the Disney artists employed in the Character Model Department and the role they played in the history of animation art.
–Tonja Morris
Senior Conservator of 3D Objects
The Walt Disney Family Museum
Image sources:
Header: Pinocchio maquette before treatment, c. 1940; collection of the Walt Disney Family Foundation; © Disney

Pinocchio maquette before treatment, c. 1940; collection of the Walt Disney Family Foundation; © Disney

Pinocchio maquette after treatment, c. 1940; collection of the Walt Disney Family Foundation; © Disney