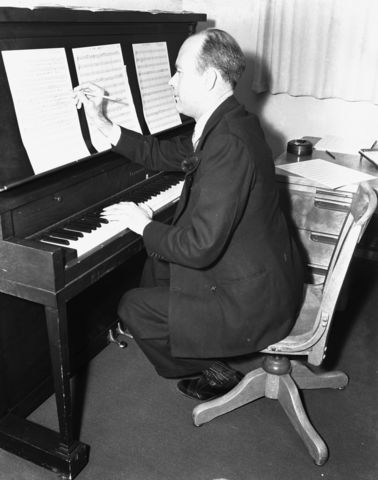 1929–1939 was a period of great experimentation at The Walt Disney Studios. Walt followed the runaway success of Mickey Mouse with a series centered around music, the Silly Symphonies, to test out their latest technological innovations. In January 1930, Disney's first in-house composer Carl Stalling left the Disney Studios and eventually found a home at Warner Bros. within their celebrated animation unit. Bert Lewis, who started at Disney only a month before, followed Stalling by scoring Cannibal Capers (1930) and all of the ensuing 1930 Silly Symphonies, concluding with Birds of a Feather in February 1931.
In 1931, a new composer, Frank Churchill, was hired and may have co-scored Mother Goose Melodies (1931) with Lewis. Churchill was a talented pianist who played "mood music" on the sets of silent films and also performed with various dance bands. His first "solo" score was the feature-like The China Plate (1931), in which he created a varied musical background to arguably the most cohesive narrative yet in a Silly Symphony (though the score still included classical excerpts). Churchill provided another mini-feature score for Egyptian Melodies (1931), one of the most brilliantly animated shorts of that year.
Churchill was now kept busy although Bert Lewis continued to score several shorts, including King Neptune and Babes in the Woods, both in 1932. That same year Churchill scored Santa's Workshop, the first Silly Symphony to showcase his unique talent for creating distinctive song melodies—a gift that would blossom in Snow White and the Seven Dwarfs (1937) and Bambi (1942). But before those two feature-length masterpieces, he created the first popular mega-hit for Disney with "Who's Afraid of the Big Bad Wolf?" from 1933's Three Little Pigs.
1933 also saw the debut of the Studios' next major composer of the decade, the versatile Leigh Harline.  Harline was a university-trained musician with extensive experience in radio. His first Disney songs (and score) were heard in the epic Father Noah's Ark in early 1933. He is perhaps best known for crafting Disney's perennial signature tune, "When You Wish Upon A Star," for Pinocchio (1940). For the Silly Symphonies, he created some of the most sophisticated scores of the series, including Music Land (1935), a remarkable spoof of symphonic jazz with a cast of musical instruments, and The Old Mill (1937), a lyrical piece of animated impressionism.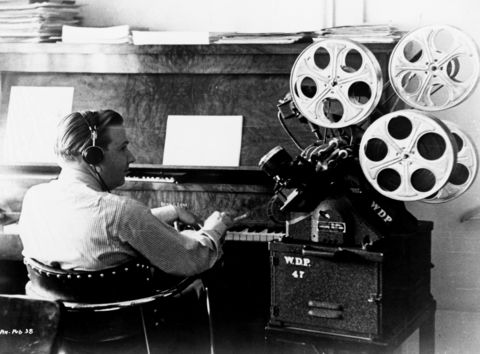 With the dominance of Churchill and Harline the practice of pilfering classical music gave way to more thoroughly original scores that included songs as well. Two sheet music albums of Silly Symphonies songs were published in the 1930s, and the scores were among the first original soundtracks released by RCA Victor.
As Churchill and Harline became involved with Snow White and Pinocchio, another composer, Albert Hay Malotte, was added to the Music Department in 1935. Malotte was a classical composer who is primarily remembered today for his enduring setting of The Lord's Prayer. He scored only a few Silly Symphonies, including Three Blind Mouseketeers (1936), Little Hiawatha (1937), and Moth and the Flame (1938), and the last in the series, The Ugly Duckling (1939). Released separately from the Silly Symphonies as a "special," Academy Award®-winning Ferdinand the Bull (1938) also showcased a Malotte score. A Ferdinand title song, with lyrics by Larry Morey, was written and used for promotional purposes; though not heard in the film, it also became a moderate hit.    
To match the amazing variety of stories and styles presented in the Silly Symphonies series, the musical scores were equally varied. The early black and white Silly Symphonies were content to explore the novelty of animation cleverly joined—one could say "choreographed"—to pastiche scores. The addition of three-strip Technicolor in Flowers and Trees (1932) was the first major development towards feature filmmaking. 
Other color shorts such as The China Plate, Babes in the Woods (1932), The Pied Piper (1933, with its vocal soloists and chorus), and The Country Cousin (1936), were self-contained mini-features which developed narratives from a variety of sources: myths, fables, fairy tales, and even poetry, as well as from original stories developed by Walt and his team. Often these were also more theatrical. The Cookie Carnival (1935), with songs by Harline and lyricist Larry Morey, is essentially a melodious operetta (or musical comedy). The Goddess of Spring (1934), again scored by Harline, is virtually a one-act animated opera. 
But the series didn't neglect the relatively plotless music/animation fusion of the first Silly Symphonies, i.e., a progression of "acts" freely animated to a suite-like medley of musical movements. In many ways these were also similar to another theatrical form, the revue—a loose collection of comedy sketches and songs built around a unifying theme. The presentation of the various cookie king candidates at the end of Cookie Carnival is a perfect example. Many of the early black and white shorts followed this pattern—The Merry Dwarfs (1929), Springtime (1929), Summer (1930), Autumn (1930), Mother Goose Melodies—as did the increasingly-sophisticated Technicolor Silly Symphonies, such as Lullaby Land (1933), Funny Little Bunnies (1934), and Water Babies (1935). 
This trend continued into the late 1930s with Woodland Café (1937), a three-movement suite of night club acts, and one of the few Silly Symphonies to use non-Disney Studios' composed songs, "Twelfth Street Rag" and "Truckin." Mother Goose Goes Hollywood (1938) is a collection of movie star caricatures set to a free-wheeling medley of music cues.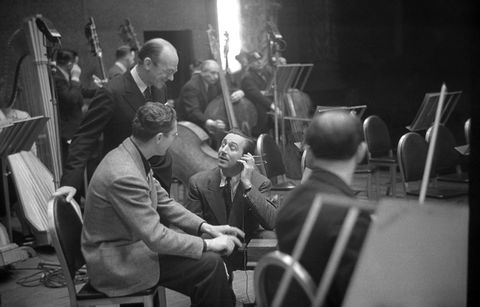 The Silly Symphonies continued to peak even as the Studios began work on the first animated features. From the standpoint of sheer beauty and sophistication of both animation and scoring in this later period, Little Hiawatha; The Old Mill; Wynken, Blynken & Nod (1938); and Moth and the Flame should be singled out. 
The Old Mill features one of the best scores in the entire series. Harline's impressionistic orchestral/choral tone poem loosely follows the four-movement structure of a classical symphony, as does the film itself. It also features some of the most picturesquely charming animation and ambitious special effects, notably with no spoken dialogue. The Old Mill won an Academy Award® for "Best Short Subject, Cartoon," as did several other Disney shorts during the 1930s. It was also included with five other Disney shorts for a collective award at the Venice Film Festival. 
Walt's first animated features would not have been possible without the period of experimentation, technical development, and commercial success of both the Mickey Mouse and Silly Symphony series during the 1930s. While Mickey and Donald shorts continued to be produced during the Studios' transition into feature production, the Silly Symphony series was phased out. However, Symphony-like musical episodes continued to appear, particularly in the mid-1940s package features such as Melody Time (1948) and episodes such as the "All in the Golden Afternoon" sequence in Alice in Wonderland (1951).   
Walt Disney himself was not a musician but he knew what he and the public liked and was able to draw it out of his talented staff of composers and musicians. In my chapter, "Make Walt's Music" in The Cartoon Music Book, I attempted to sum up the unique and enduring qualities of the first decade of "what would become the signature Disney sound: music that is primarily melodic, inventively orchestrated, and essentially simple (sometimes deceptively so) and accessible, yet always with that indefinable X-factor that was another characteristic of Disney's early work as a whole: popular appeal." 
–Ross Care
Ross Care is a Disney historian, musician, and composer.
Photo credits (in order of appearance):
Audio engineer and inventor of Fantasound Bill Garity (seated), master of ceremonies Deems Taylor (standing), and Walt Disney during the recording of Fantasia, 1940; courtesy of the Walt Disney Archives Photo Library; © Disney

Frank Churchill composing at the piano, c. 1930; courtesy of the Walt Disney Archives Photo Library; © Disney

Leigh Harline plays piano near moviola, c. 1930s; courtesy of the Walt Disney Archives Photo Library; © Disney