"He popped out of my mind onto a drawing pad 20 years ago on a train ride from Manhattan to Hollywood at a time when the business fortunes of my brother Roy and myself were at lowest ebb, and disaster seemed right around the corner," Walt penned in a 1948 essay titled "What Mickey Means to Me." The disaster Walt mentioned was the brazen theft of both his successful cartoon character Oswald the Lucky Rabbit, as well as most of the Disney artists, at the hands of Universal distributor Charles Mintz. As for who popped out of Walt's mind? Why, that was Mickey Mouse!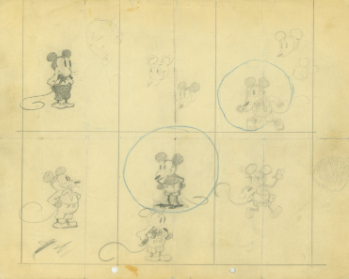 Just before Walt left New York for the cross-country train ride back to Hollywood, he sent his brother Roy a telegram. Nowhere in it did he outline the possible career-ending blow he and his brother had just sustained. He simply indicated when he would arrive home, and took care to add, "Don't worry everything OK," to ease his brother's nerves. Everything was not okay. Walt knew he had to come up with a new character, and fast. Walt's daughter Diane Disney Miller recalled, "It was on that long train ride that dad conceived of a new cartoon subject, a mouse who was then refined and further developed by Ub Iwerks, and given his name by my mother."
The first Mickey Mouse cartoon actually completed was Plane Crazy. Inspired by Charles Lindbergh's heroic first solo flight across the Atlantic, its plot entailed Mickey and some animal friends attempting to assemble their own airplane. The cartoon premiered in Hollywood on May 15, 1928, in the form of a test screening. It failed to obtain distribution. The second Mickey Mouse cartoon, The Gallopin' Gaucho, met with the same fate. One unpleasant distributor even told Walt, "They don't know you and they don't know your mouse."
The third time was the charm for Mickey, however, when Steamboat Willie premiered on November 18, 1928, in New York's Colony Theatre. It was one of the very first cartoons to ever successfully utilize synchronized sound, and was so popular, it was talked about more than the feature film it was meant to just compliment. Walt received $1,000 for a two-week run—the highest sum ever paid for a cartoon on Broadway. Walt Disney Studios, with its small but loyal staff, was saved, and a cartoon star was born.
But, when was he born?
Oddly enough, Mickey's "official" birthday changed dates seemingly every year for decades following 1928. In 1933, Walt himself proclaimed, "Mickey Mouse will be five years old on Sunday. He was born on October 1, 1928. That was the date on which his first picture was started, so we have allowed him to claim this day as his birthday." That date wouldn't last. Ranging from late September to December, Mickey's birthday was often altered to conform to specific promotions. It wasn't until 1978 that Dave Smith, the founder of the Disney Archives, determined that the premiere of Steamboat Willie was truly Mickey Mouse's first public appearance, therefore his date of birth.
This of course makes November 18, 1928 Minnie Mouse's birthday too, as she was there hurrying along the banks of the river trying to catch Pegleg Pete's steamboat. Ever resourceful, Mickey found a way to get her aboard even after the boat had departed. The two realized an instant connection, and the rest, as they say, is history.
Happy birthday Minnie. And happy birthday, Mickey!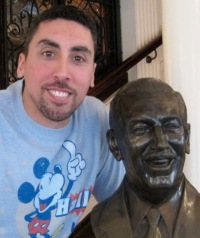 Keith Gluck is a WDFM volunteer, writer/editor for thedisneyproject.com, a Disney fan site. His Disney life started early, visiting Disneyland before turning one, and writing his very first book report on a Walt Disney biography for kids.