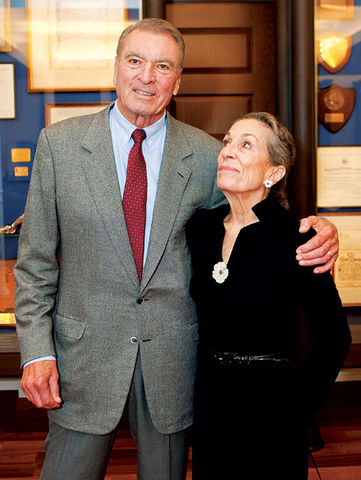 Ron Miller, husband of Diane Disney Miller, son-in-law of Walt Disney, former CEO of The Walt Disney Company, and owner of Silverado Vineyards, has passed in Napa, was the second President of the Board of Directors at The Walt Disney Family Museum. 
Ron worked at The Walt Disney Company for thirty years, including as President and Chief Operating Officer of Walt Disney Productions, Chief Executive Officer of The Walt Disney Company, and member of the Board of Directors and Executive Committee of The Walt Disney Company.
At age 21, Ron, a member of the football team at the University of Southern California, was introduced to 20-year-old Diane Disney on a blind date. They were married in Santa Barbara on May 9, 1954. Ron served in the Army and then played professional football for the Los Angeles Rams before his father-in-law recruited him to work at The Walt Disney Studios. There, he ascended from motion picture and television production roles to CEO of what is now The Walt Disney Company.
Ron first started working for Walt as part of the original Disneyland team, where he was employee number six. After officially joining the Company, Walt sponsored Ron's membership in the Screen Director's Guild. Ron's first job in this capacity was serving as second assistant on Old Yeller (1957). Ron holds numerous producer credits, including for Son of Flubber (1963), Summer Magic (1963), That Darn Cat! (1965), Never a Dull Moment (1968), Escape to Witch Mountain (1975), Pete's Dragon (1977), and Tron (1982). Ron also directed various lead-ins for Walt on The Magical World of Disney television series.
After Walt's death in 1966, Ron pushed the Company to expand and explore, creating Walt Disney Home Video, Touchstone Pictures, and The Disney Channel. He supported and encouraged ongoing innovation, including early computer animation, with experimental work and films such as Tron and Tim Burton's early stop-motion animation shorts, Vincent (1982) and Frankenweenie (1984). In 1983, Ron approved the funding for Disney's foray into New York theatre, backing the first workshop for a show that eventually would open on Broadway. Additionally, Ron was responsible for Touchstone's first film, Splash (1984), and was also responsible for laying the groundwork for Who Framed Roger Rabbit (1988). Ron was an integral part of the executive team that completed both Walt Disney World and EPCOT, and he was key in negotiating the Tokyo Disneyland transaction, which was the first park outside of the U.S. Ron also was instrumental in establishing the licensing arrangement with Feld Entertainment for what is now Disney on Ice.
After Ron left The Walt Disney Company in 1984, he and Diane settled in Napa Valley, which became their permanent home. Ron, Diane, and Diane's mother, Lillian, established Silverado Vineyards in 1981, four years after they purchased the property near the small town of Yountville, California. Throughout its thirty-plus years of operation, the couple championed environmental efforts in wine making, including helping to restore local creek beds and riverbanks and adopting solar power and hybrid-engine technology in the wine industry.
Ron supported Diane's pursuit of active advocacy in documenting the life and accomplishments of her father. In 2001, the Walt Disney Family Foundation released Walt: The Man Behind the Myth, a documentary film about Walt Disney's life, featuring interviews with his colleagues, peers, and family—including Ron.
This led to a more ambitious project, which was the founding of The Walt Disney Family Museum in the Presidio in San Francisco. After Diane participated in the establishment of The Walt Disney Concert Hall in Los Angeles, everyone realized that she, like her father, was capable of tackling monumental and visionary projects. With Ron's support, she embarked on a project to create a state-of-the-art museum in San Francisco's historic Presidio to preserve the legacy of her father and inspire people with Walt's story. The museum opened in 2009.
After Diane's passing in 2013, Ron became President of the Board of Directors of The Walt Disney Family Museum and ushered in a new era for the organization as an independent, nonprofit organization committed to carrying on the mission of the museum while promoting the inclusion of new supporters, partners, and friends.
Ron was a passionate outdoorsman. Alpine skiing, hunting, fly-fishing, and golf were lifelong pursuits. He was an experienced horseman with a cattle ranch near Montrose, Colorado. Ron and Diane were generous philanthropists, supporting many causes, including classical music and ballet.