Cost
$40 members | $35 student and youth members
$60 non-members | $55 student and youth non-members
Location
ILM Theater |
1 Letterman Dr, San Francisco, CA 94129
No matter the medium, Walt Disney always looked for new ways to innovate in service of a good story. In 1929, innovation came in the form of the Silly Symphonies shorts, in which music was the star. From the scores that accompanied his films to the songs that animate his attractions at Disneyland, music helped Walt transport audiences to worlds unlike their own, thanks in large part to music's ability to augment other storytelling elements. In conjunction with this month's 10th Anniversary theme, join us for a talk with film composer and Academy Award®-winner Michael Giacchino as he discusses the history of music in film and the anatomy of a film score. Attendees will also learn about the films that influenced Giacchino's career path and get a glimpse into his own surprising history with The Walt Disney Company.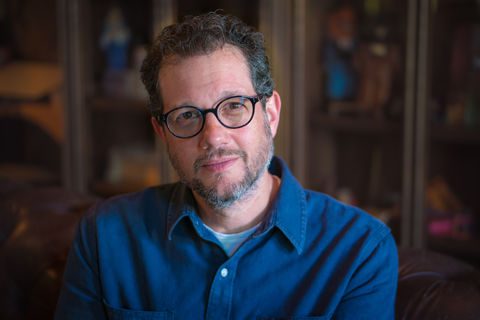 About the Speaker
Michael Giacchino
Composer Michael Giacchino has credits that feature some of the most popular and acclaimed film projects in recent history, including The Incredibles (2004), Ratatouille (2007), Star Trek (2009), Jurassic World (2015), Rogue One: A Star Wars Story (2016), War for the Planet of the Apes (2017), and Coco (2017). Giacchino's score for the Disney•Pixar hit Up (2009) earned him an Oscar®, a Golden Globe®, a BAFTA Award, the Broadcast Film Critics' Choice Award, and two GRAMMY® Awards.
Giacchino studied filmmaking at the School of Visual Arts in NYC. After college, he landed a marketing job at Disney and began studies in music composition—first at Juilliard, and then at UCLA. He moved from marketing to production in the newly-formed Disney Interactive division where he had the opportunity to write music for video games. After moving to DreamWorks Interactive, he was asked to score the temp track for the video game adaptation of The Lost World: Jurassic Park (1997). Upon hearing his work, Steven Spielberg hired him to compose the rest and the title became the first PlayStation® game to have a live orchestral score. Giacchino went on to score Spielberg's popular Medal of Honor series, and his work in video games caught the interest of J.J. Abrams, thus beginning their long-standing collaboration, which would lead to scores for the hit television series Alias (2001) and Lost (2004), and the feature films Mission Impossible III (2006), Star Trek (2009), Super 8 (2011), and Star Trek Into Darkness (2013).
In addition to serving as the musical director of the 81st Annual Academy Awards®, some of Giacchino's other projects include collaborations with Walt Disney Imagineering on music for Space Mountain, Star Tours (with John Williams), and the Ratatouille: The Adventure attraction in Walt Disney Studios Park at Disneyland Paris Resort. Most recently, he completed the music for the brand-new Incredicoaster located in Pixar Pier at Disney California Adventure Park. This summer, he had two highly anticipated sequels in theaters: Incredibles 2 (2018) and Jurassic World: Fallen Kingdom (2018). Currently, Giacchino serves as the Governor of the Music Branch of the Academy of Motion Picture Arts and Sciences and sits on the advisory board of Education Through Music Los Angeles.
On-Sale Dates & Information
Tickets for More Than a Silly Symphony will be made available as follows:
Walt's Circle Donors

: Purchase tickets beginning Friday, May 3 at noon by calling 415.345.6829 or emailing 

membership@wdfmuseum.org

Supporter 

and Friend-level members: Purchase tickets beginning Monday, May 6 at noon, by calling 415.345.6829 or emailing 

membership@wdfmuseum.org

All member levels

: Purchase tickets online or at the Ticket Desk beginning Wednesday, May 8 at noon

Public (non-members)

: Remaining tickets available online or at the ticket desk beginning Friday, May 10 at noon
To receive priority access to purchase tickets, you may upgrade your membership. Membership dues and Walt's Circle donations may be paid as monthly installments or as a one-time annual payment. For more information, please call the Membership Department at 415.345.6810.