Cost
$40 members | $30 student and youth members
$60 non-members | $50 student and youth non-members
Combo tickets: $60 member combo | $50 student and youth member combo
$80 non-member combo | $70 student and youth non-member combo
Due to the museum closure this program is canceled and we are working on a reschedule for a future date. Ticket-holders should check their email for an update on refund status. Please email tickets@wdfmuseum.org if you do not receive this email. For more information on the closure, visit waltdisney.org/visitor-update. We apologize for the inconvenience and are sending our best wishes to you and your families.
In recognition of Women's History Month, join members of Pixar's story department in this very special panel. Moderated by Her Universe Founder and Designer Ashley Eckstein, hear from Story Supervisor Valerie LaPointe (Toy Story 4, 2019), Storyboard Artist Aphton Corbin (Toy Story 4, 2019), and Storyboard Artist Louise Smythe (Onward, 2020), as they discuss their "storied" journeys from humble beginnings to the top creative tier of Pixar. Learn about what it took for these talented women to get their unique story ideas, gags, and character arcs shown in blockbuster Pixar hits, and how they ensured that their work stood out from the rest of the competition.
Visitors are welcome to attend our companion program, Building an Empire: Creating Her Universe with Ashley Eckstein at 2pm.
About the Speakers
Valerie LaPointe
Valerie LaPointe began at Pixar Animation Studios as a story intern during the summer of 2006. She was a story artist on shorts including Presto (2008), on several Mater's Tall Tales, on the Toy Story Toons Small Fry (2011) and Partysaurus Rex (2012), and the TV special Toy Story of Terror! (2013). LaPointe also worked on Academy Award®-winning feature films Brave (2012) and Inside Out (2015), as well as The Good Dinosaur (2015). 
As Story Supervisor on Pixar's Toy Story 4, LaPointe oversaw a team of story artists. She also contributed story ideas and helped with the writing and development of the film. Her most recent role is as director on the short, Lamp Life (2019), featuring the character Bo Peep from the Toy Story films. Lamp Life will premiere on Disney+.
Raised in Virginia Beach, VA, LaPointe received her Bachelor of Fine Arts degree in art and animation from Virginia Commonwealth University in Richmond. She attended graduate school at the University of Southern California in Los Angeles where she received her Master of Fine Arts in animation. At USC, LaPointe produced and directed her own short films. She also worked on music video projects and commercials, mostly doing stop-motion animation for Partizan Entertainment before coming to Pixar. LaPointe currently resides in Oakland, CA.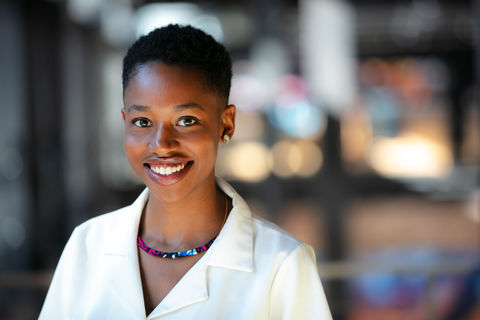 Aphton Corbin
Aphton Corbin began at Pixar Animation Studios in 2016 as a story artist on Toy Story 4. She is currently working as a story artist for the upcoming feature film Soul, which is set to release in theaters on June 19, 2020. As a story artist, Corbin helps the Director visualize their film in storyboard form. 
Raised in Richmond and Sacramento, CA, Corbin attended Pleasant Grove High School and graduated from California Institute of the Arts. She currently resides in Berkeley, CA. 
Louise Smythe
Louise Smythe joined Pixar Animation Studios as a story intern in June of 2012. She became a full-time employee that Fall and has since worked on the television special Toy Story That Time Forgot (2014), and feature films The Good Dinosaur (2015), Cars 3 (2017), and Toy Story 4 (2019). Smythe is currently a story artist on Pixar's upcoming feature Onward, which is set to release on March 6, 2020. As a storyboard artist, Smythe works with the writer, director, and story team to sketch sequences of a film.
Smythe was born and raised in Memphis, Tennessee. She earned a BFA in Communication Design from Washington University in St. Louis, and studied character animation at the California Institute for the Arts. She currently resides in Oakland, CA.