The Disneyland Resort is sure to be the hottest destination this summer with the opening of two new lands - Buena Vista Street and Cars Land at Disney California Adventure. Disney Imagineers have worked long and hard to bring more of Walt Disney into the newly expanded and enhanced Disney California Adventure.
Many guests will no doubt journey to Walt Disney's Original Magic Kingdom, Disneyland, after experiencing all of the new and exciting attractions and experiences at Disney California Adventure. We at The Walt Disney Family Museum would like to highlight some of the must see Disneyland attractions guests can still experience today that tie directly back to Walt Disney himself.
So with no further ado we present:
Disneyland - The Quintessential Classics
The Must See Attractions that made Walt Disney's Magic Kingdom
Internationally known as "The Happiest Place on Earth"!
The Tour Continues: Great Moments with Mr. Lincoln
As we depart the Disneyland Railroad at Main Street Station, we see Town Square and Main Street USA ahead of us. Let's walk across Town Square and visit our next destination: The Disneyland Opera House, home of the quintessential classic attraction "Great Moments with Mr. Lincoln".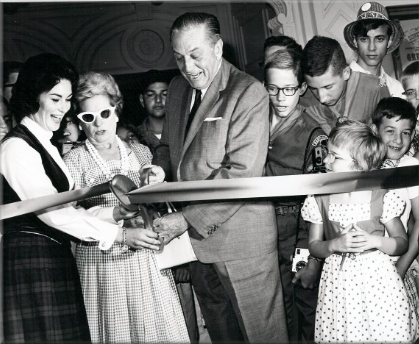 The Disneyland Opera House was the first building built on the Disneyland site in 1954, and has been home to "Great Moments with Mr. Lincoln" since it was dedicated by Walt and Lillian Disney on July 18, 1965, in celebration of Disneyland's Tencennial (tenth anniversary). "Great Moments with Mr. Lincoln" debuted one year earlier as the centerpiece of the Illinois State Pavilion at the 1964 New York Worlds Fair, but its genesis goes back even farther, to an ambitious attraction Walt was planning in 1959 for a new land at Disneyland called "Liberty Street". "Liberty Street" would run parallel to the east side of Main Street USA and would feature colonial shops and architecture representing the 13 original colonies during the Revolutionary Period of the 1700's. The main attraction of "Liberty Square" would be a theater presentation housed in a replica of Independence Hall called "One Nation Under God" The highlight of the historical program would be an appearance on stage by every American President as a life-size, fully animated figure.
By 1961, Walt and his Imagineers were working on a prototype of an Audio-Animatronic Abraham Lincoln figure for the "One Nation Under God" Attraction. On a fateful studio tour in April of 1962, Walt asked Robert Moses, Head of the New York Worlds Fair, if he would like to meet Abraham Lincoln. "Moses gave me a funny look," Walt remembered. "I said, 'Come on in and meet him!' So we walked in the door, I said, 'Mr. Lincoln, meet Mr. Moses,' and Lincoln stood up and put his hand out, and Moses went over and shook hands with him. Well, Moses is quite a showman and he said, 'I've got to have Lincoln at the Fair!' But I said this was five years away anyway. But Moses wouldn't take no for an answer." Mr. Moses convinced the State of Illinois to sponsor the attraction and the Imagineers scrambled to perfect their prototype to be show ready in less than two years. "One Nation Under God" morphed into "Great Moments with Mr. Lincoln" and became one of the most popular attractions at the New York Worlds Fair. It also became the first Disney Attraction to appear simultaneously on both coasts.
Walt summed up his purpose for presenting "Great Moments with Mr. Lincoln" on an episode of his television series, the Wonderful World of Color, entitled "Disneyland Goes to the Worlds Fair": "Ever since I was small boy in Illinois, I have had a great personal admiration for Abraham Lincoln. So when we decided to re-create some of the great moments in Mr. Lincoln's life for the World's Fair we directed all our energies to that task. We wanted to bring to the people of today the inspiring words of the man who held this nation together during its moment of greatest crisis - the Civil War."
Walt Disney's vision for "One Nation Under God" and the showcasing of every American President on a single stage would be fulfilled with the opening of the "Hall of Presidents" attraction at the Magic Kingdom at Walt Disney World in 1971. Great Moments with Mr. Lincoln would take a short hiatus in the early 1970's and again during Disneyland's 50th Anniversary Celebration, but Guests demand has always brought the return of one of Walt's greatest patriotic and technological achievements.
Next time we'll venture deep into Adventureland and sing along with the birdies at "Walt Disney's Enchanted Tiki Room" and take a cruise down the exotic rivers of the world on the "Jungle Cruise".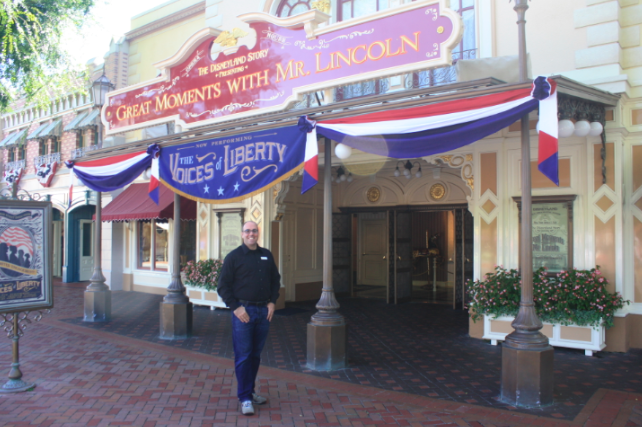 Joseph Titizian (pictured above at Great Moments with Mr. Lincoln, July 2012) is an inaugural member of The Walt Disney Family Museum volunteer team. He is a regular contributor to this blog, and has developed continued education courses for the volunteer team. A lifelong Disney fan, Joseph has previously worked at Disneyland Park and Pixar Animation Studios.
*Top image: Walt Disney, with his wife Lillian, cut the innaugural ribbon at the opening of Great Moments with Mr. Lincoln, July 18, 1965. Image courtesy The Walt Disney Company, ©Disney.
---